Patron Account Overview
About
The Patron Account provides access to all patron-related functions: checking items out; viewing and editing current loans; placing and managing holds; viewing, creating, and managing bills and charges; creating and managing messages to patrons; updating patron information; and other general patron management tasks.
Retrieve Patron Accounts
Search for Patron By Name
From the Home Screen or using the Search menu, click Search for Patron by Name
In the search form, in the appropriate boxes enter full names or use the first few characters

The search matches characters in the specific field, from left to right
The Name Keyword option can be used to search a name, or part of a name, across all name fields and will match the string in any part of the name. This is helpful when searching for patrons with hyphenated names.

Click Search
All matching records will populate the list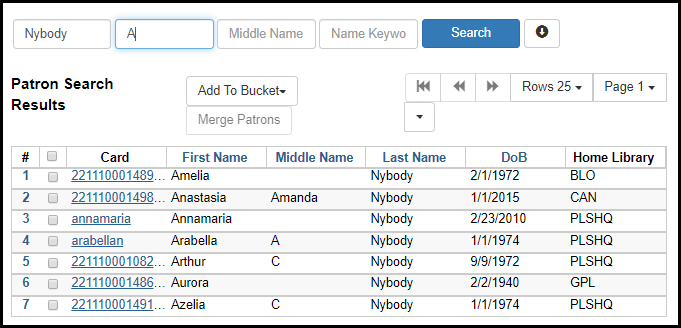 Access the patron record
Double click the patron record row, or
Click the Card link to go to Checkout, or
Click any of the function links: Check Out, Items Out, Holds, Bills, Edit to access those screens

The function tab will highlight dark blue, indicating the active screen
If there is an alert on the account it will display before the selected function
If the patron has bills, the Bills screen will open before the selected function

Within the function screens, the Patron Search button remains available

Depending on the action taken on the patron record, clicking Patron Search will open either a blank patron search form or the previous search result list
Scan Barcode in Checkout
From the Home screen, click Check Out Items
Scan the patron barcode
The patron account opens
Patron Summary
Located in a panel on the left side of the patron account, the patron summary provides at-a-glance details about the patron, including activity dates, fines, circ details,
Hide or Show Summary
Once a patron account is opened, the summary information can hidden:

Once hidden, the sumamry information can be expanded:

Function links
---

This work is licensed under a Creative Commons Attribution-ShareAlike 4.0 International License.