High Demand Report
Evergreen v.2.2
Concepts
The High Demand Report lists all titles with holds. It incudes data for holds placed by your patrons and by patrons system wide. It is intended to be used as a collection develoment / purchasing tool. The High demand report comes as an Excel workbook, containing two spreadsheets: one spreadsheet tab labeled Local Demand and another labeled System Demand.
Guidelines for Use
Use this report to determine if your library should purchase a copy of a title to fulfill demand by your patrons and assist with system-wide demand for a title in the spirit of cooperative collection development. The following recommendations are made, of course, in appreciation of the constraints of each library's materials budget. Consider purchasing materials when:
Your patrons have multiple holds on a title and you do not own a copy
Your patrons have holds on material types you do not purchase (such as video games)
There are many holds and few copies (low ratio)
If the Hold Ratio in the High System Demand Report is less than 16% and your library has holds and doesn't own a copy
Check this every week as demand for specific titles in your library and the system may change on a weekly basis.
Report Data
Local Demand
Record Number
ISBN
Title
Item Type (format)
250a (edition)
Holds (for your patrons)
System Copies
My Copies
System Demand
Record Number
ISBN
Title
Item Type (format)
250a (edition)
Holds (for patrons system wide)
Total Copies (system wide)
Short (number of holds minus total copies)
Ratio (a calculation of holds compared to copies - LOW ratios indicate higher priority purchases)
My Copies
Schedule and Access
The High Demand Report is run weekly. It is distributed via email to the library director email.
Example Report
Local Demand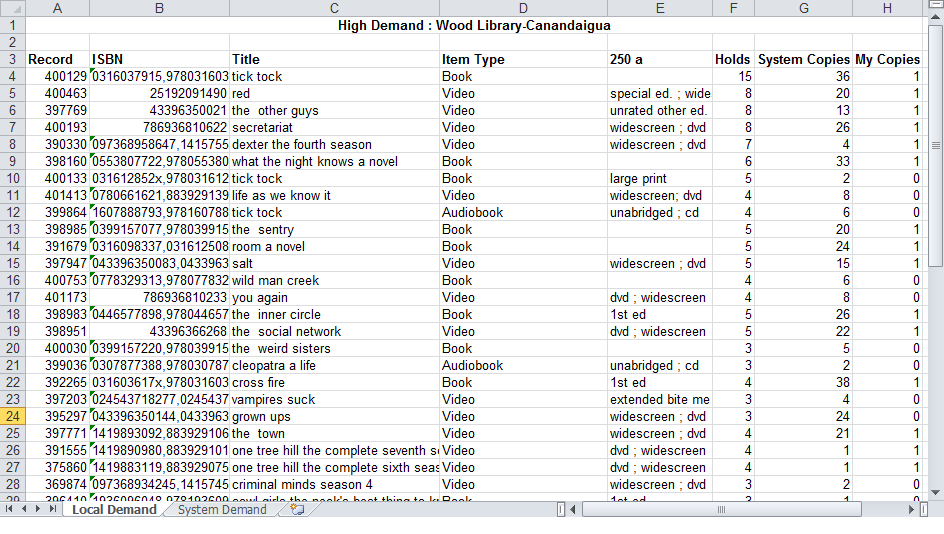 System Demand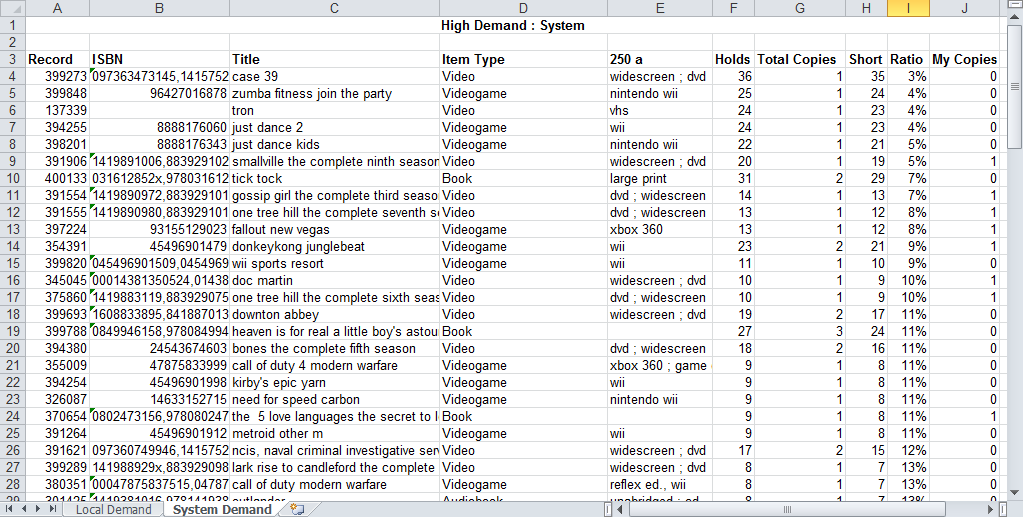 Manipulating the report
You can resort the report to view the data by different criteria. See
Reports Excel Tips
for more detail