Printer Settings
v.3
About
Printer settings allow staff to set up printer configurations for specific types of print jobs for seamless printing. These settings can only be used with
Hatch printing configured
. If your library decides to use
the standard print dialog for printing
, you can manually control printer settings for each print request.
Printer Settings
From Workstation Administration click Printer Settings
Print contexts include Default, Receipt, Label, Mail, Offline
For each print context set the default printer

once Hatch is installed, available networked printers will display in the list
For most libraries, set the Default printer to a stadard printer and Receipt to the Star printer

For each print context set page and print settings

Printer contexts are specified for each receipt/print template - the printer context MUST be specified in the template or all receipts will print to the Default printer. To edit templates, see:
Evergreen Configuration Print Templates
Margins for receipts
The "default" setting for margins are generally very wide and cause the font to print very small. For receipt printers, set the margins to Equal, Equal Opposite, or Device Minimum - the option depends on your specific equipment. Expect to do some testing to figure out the option that works for you. Selecting the wrong margin setting can cause receipts to not print. Set a margin then use the Test Print function. If nothing prints, change the margin and test again. Once the Test Print prints, print an actual receipt to verify it prints as desired.
Paper type for receipts
Set the Paper Type to 72mm x Receipt for most Star printers.
Receipt settings example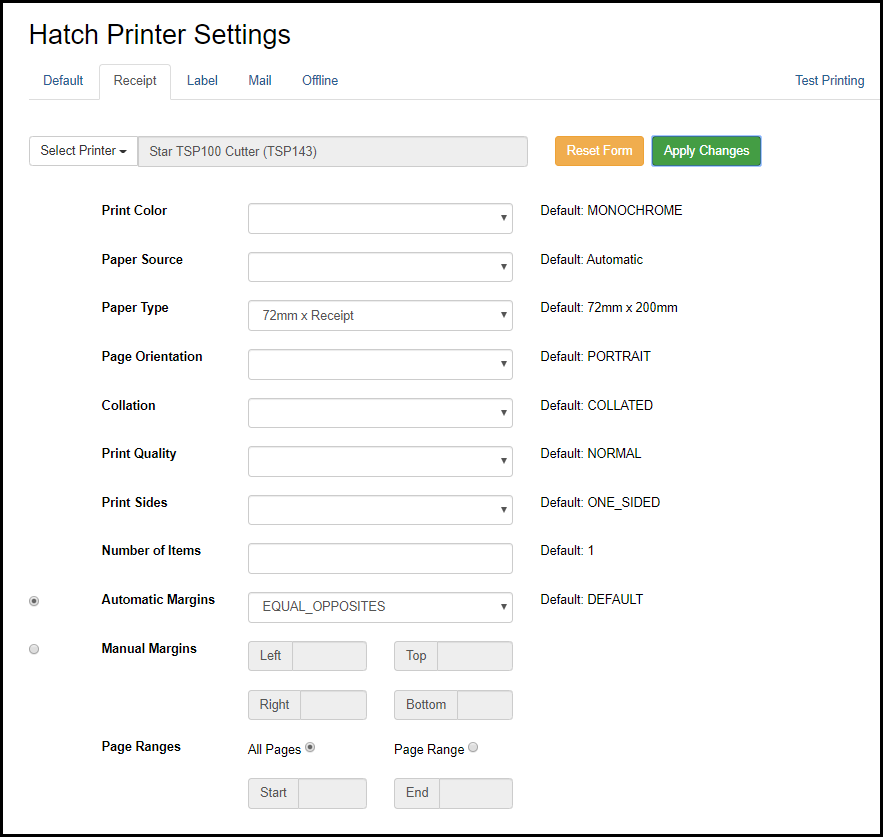 ---

This work is licensed under a Creative Commons Attribution-ShareAlike 4.0 International License.