Evergreen 3.7 Upgrade: June 23, 2022
Preparing for the upgrade
Before Wednesday, June 22
We recommend doing the following ahead of time before the upgrade to 3.7. On or before June 22, you should:
Make sure you are using the latest version of Chrome. Many computers' updates are managed by PLS. If you see a message that "Updates are disabled by your administrator." verify that the version is 102. If your Chrome is out-of-date, please restart your computer.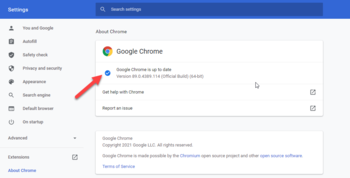 To check, please visit About Chrome on the Chrome settings page (to get there directly, copy and paste into your address bar: chrome://settings/help) and look for the Google Chrome is up to date message.
Take note of the workstation name.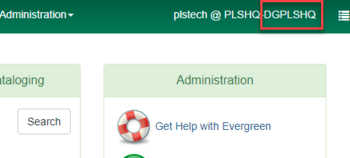 Each computer you use to login to Evergreen will have at least one workstation name. Your workstation name can be found in the green toolbar in the top right of the screen.
Export a copy of your receipt templates if you ever print anything from Evergreen (receipts, hold shelf lists, etc.). Please note that exporting your print templates will create one single file that includes all of your templates; you don't have to export each template individually.
Export a copy of your holdings templates if you perform holdings maintenance and have holdings templates. Just as with the print templates, please note that exporting your holdings templates will create one single file that includes all of your templates. Please note that all staff who use holdings templates should export their own individual sets of holdings templates.
There's no need to open either of your exported files. For both types of template exports, please note that the file will download in JSON format. The data inside this file is structured and encoded and may be difficult to read (but not for Evergreen).
New features in Evergreen 3.7
Hold Groups

We recommend treating this like a beta feature and verifying that holds placed using it are actually placed by checking each patrons' individual account.

Renewals for expired patrons

Per an EAC recommendation and a PLSDAC vote in May 2022, expired patrons will be able to renew items. This includes autorenewals, which will no longer be blocked for expired patrons.

"Did you mean?" search suggestions

Evergreen will provide alternate search term suggestions for single-word searches when there are no results.
Evergreen provides suggestions in both the staff client and the OPAC.

Staff catalog baskets

You can now add all of the results for a search in the staff catalog to your basket in one click!

"All Videos" search format option

Available in both staff catalog and OPAC.