Holdings Template Editor
The Holdings Template Editor allows holdings maintenance staff to create templates that contain the Item Attributes necessary for adding new, or updating existing, item records. Using templates can streamline the process of adding or updating item records by applying multiple attributes in one step, rather than applying attributes one at a time.
Access the Holdings Template Editor
Open the Administration menu
Click Local Administration
Click Holdings Template Editor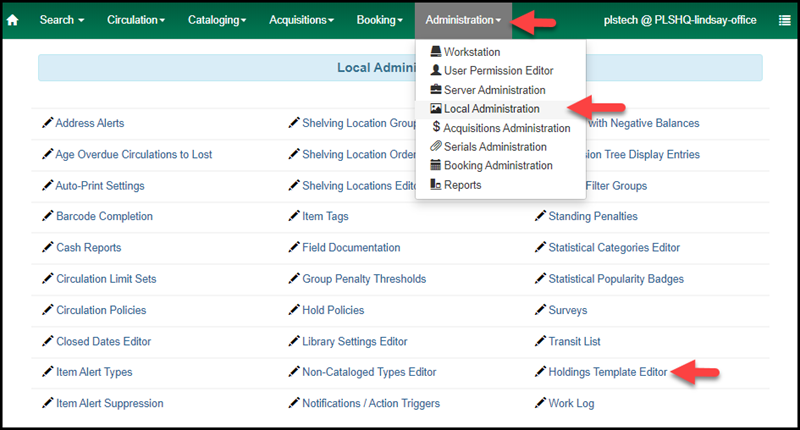 The Holdings Template Editor will open to a blank item attributes grid. No attributes are selected. No template is applied.
Create a New Template
In the Template function bar > Template selection list, type the name of your new template, ex: Audiobooks-Adult
In the item attributes grid, apply and select the necessary attributes

Apply attributes that will fit the general category of materials, such as: shelving location, loan duration, circulation modifier, statistical categories, etc.
Leave attributes blank that are item specific, such as: price, fiction/nonfiction

In the Template function bar, click Save

Inthe lower right corner, a green Saved holdings template(s) conformation will display

Click Clear
Open the Template selection list, the new template should appear, click it and Apply
The template will now be available when adding new holdings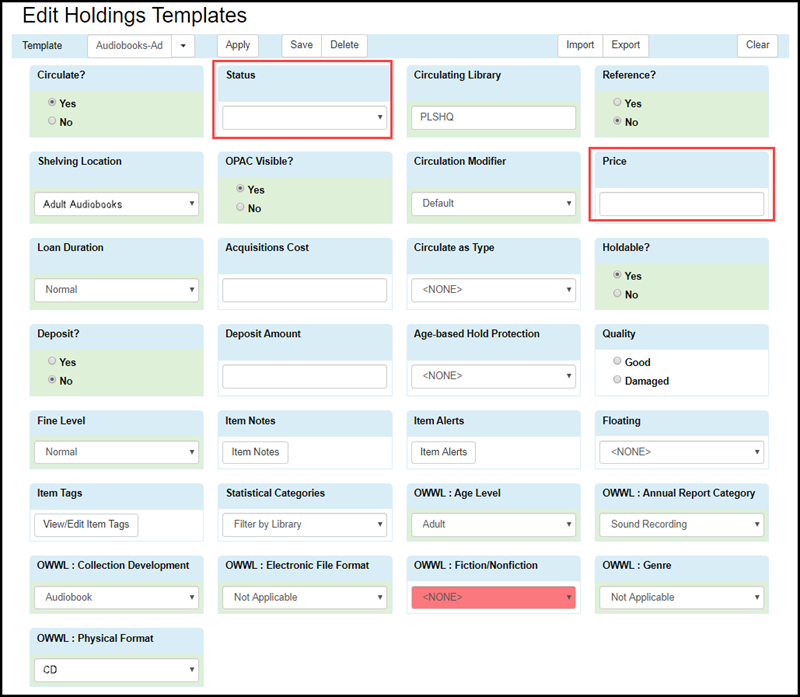 Export Holdings Templates
Video walkthrough on exporting holdings templates
While in the Holdings Template Editor, press the Export button. You only need to press the Export button once, not individually for each template, because the exported file will contain the data for all of your templates.
This should download a single file containing the data for all of your holdings templates to your default download location (usually a "Downloads" folder).
The download file will appear in the lower corner of the browser - "exported_copy_templates.json"
Open your computer's Downloads folder, rename the file something more descriptive and save it to a flash drive and/or a file location you will remember later for safekeeping. Make sure to keep the same file extension (.json)!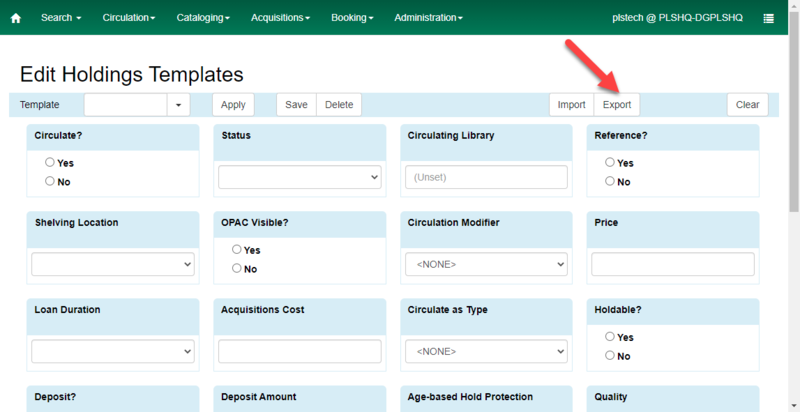 Import Holdings Templates
While in the Holdings Template Editor, press the Import button.
Select the exported template file (which should end in .json) and press Open.
You may have to wait a few minutes for your copy templates to appear in the dropdown list. If they have not appeared after a minute, you may refresh the page.