Director Briefing - April 3, 2023
OWWL Library System Open House
We hope you will join us for OWWL Library System's Open House on April 19, 2023 at 1 PM. We will be joined by special guest Lisa Kropp, President-elect of NYLA.
Please click here to RSVP
.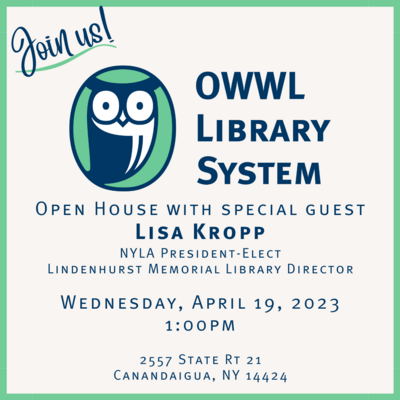 Senator Chu Outstanding Librarian Award 2023
Good afternoon, library friends! National Library Week 2023 is only one month away! State Senator Iwen Chu, Chair of the Senate Libraries Committee, is now accepting nominations for the 2023 "Love My Librarian" Outstanding Librarian Award. This award recognizes the remarkable individuals who serve their library communities through their hard work and dedication. If you know someone who fits this category, please nominate them in the form below. Nominations are due by APRIL 12TH, 2023. If you have any questions, feel free to reach out to myself, Jarred Woodward, at woodward@nysenate.gov. Submit nominations here: https://forms.gle/7yccv55SBp5iSV1YA
Aspen Discovery from Dan
We're partnering with Equinox Open Library Initiative to offer a two-hour training dedicated to Aspen, our future OPAC replacement, on Wednesday, April 5, 2:00pm-4:00pm. This training will be presented by Equinox staff and will be hosted on their webinar platform.
Please register on the system events calendar
if you plan to attend this online training. Registrations are limited, but the training will be recorded. The webinar link will be sent to registrants before the event. We encourage directors to ensure that your libraries are represented at this training, and that your staff are prepared for the launch of Aspen Discovery on April 11. A link to the recording of this training will also be sent to the systemwide list once available. Please email
evergreen@owwl.org
if you have any questions.
Construction Updates from Suzanne
FY 2024 Intent to Apply
The Intent to Apply for the FY 2024 State Aid for Library Construction cycle is due end-of-day Friday, May 26, 2023. This is a hard deadline.
Please click here for more information and to access the form
.
FY 2022 Projects
180 Day Notices were sent to all projects starting with 0386-22-****. Please complete your Progress Report by April 15, 2023 following the steps outlined in the email. If you have already finished your project, complete the Progress Report and then begin close out.
Here is a checklist to help you through the close out process
.
FY 2023 Projects
All projects starting with 0386-23-**** have been reviewed by DLD. They are scheduled to be sent to DASNY this week to begin that review process. There is no timeline for the DASNY review process, but one library's project can hold up all 260+ projects which is why we are tight on our System's deadlines. For reference, Award Notification for the FY 2022 projects was sent in October 2022 and funds were disbursed in December 2022.
For More Information
Continue to check the State Aid for Library Construction page on OWWL Docs
. It is updated as we get information and updates from DLD. When sending emails about your projects,
please include the library's name and project number in the subject line
. Many libraries have concurrent/overlapping projects, and this will make it easier to provide you with the correct information.
Upcoming Trustee/Director Workshops
Trustee Handbook Book Club: The Board-Director Relationship, Tuesday, April 18, 2023 at 5:00pm via Zoom - Click here to register.
Trustee Workshop: Q&A with Ron at Wadsworth Library in Geneseo, Thursday, April 27, 2023 at 6:00pm in-person at Wadsworth Library or Online via Zoom - Click here to register.
2023 Trustee Workshop Schedule
| Workshop | Date | Time | Link |
| --- | --- | --- | --- |
| State Aid for Library Construction Info Session | ✓ January 31, 2023 | 4:00 PM | Recording |
| Roles and Responsibilities for New Trustees | ✓ February 6, 2023 | 5:00 PM | Recording |
| Trustee Handbook Book Club: Open Meetings Law with Kirsten O'Neill, Committee on Open Government | ✓ February 21, 2023 | 5:00 PM | Recording |
| Key Laws & Regulations for Libraries | ✓ March 9, 2023 | 5:00 PM | Recording |
| Trustee Handbook Book Club: The Board-Director Relationship | April 18, 2023 | 5:00 PM | Registration |
| Q&A with Ron at Wadsworth Library in Geneseo (click here to submit questions ahead of time) | April 27, 2023 | 6:00 PM | Registration |
| Trustee Handbook Book Club: Financial Planning & Budgeting | June 20, 2023 | 5:00 PM | Registration |
| Budgeting Q&A with Ron and Kelly | July 17, 2023 | 5:00 PM | Registration |
| Trustee Handbook Book Club: Strategic Planning | August 15, 2023 | 5:00 PM | Registration |
| Trustee Handbook Book Club: Equity, Diversity, Inclusion, Access & Justice | October 17, 2023 | 5:00 PM | Registration |
| Trustee Handbook Book Club: Financing & Managing Construction Projects | December 19, 2023 | 5:00 PM | Registration |
OWWL Docs Trustee Workshop Page and Resources
OWWL Calendar with Trustee Workshops