Browse Reports
Concepts
The Browse Reports function allows libraries to retrieve
current and past reports
without needing an emailed link. Reports are organized within three sections:
Browse Scheduled Output - standard reports that are setup to run on specific days; includes Overdue Shelfists, statistics, etc.
Run Ad Hoc Reports - specialty reports that libraries can run and view current information
Wireless Reports - statistics for wifi usage
"How do I use the Report Browser?" is a link that opens this TWiki document within the Browse Reports tab.
Access Browse Reports
The Browse Reports function is accessible from the Staff Client home screen. This opens the reports interface in a new Chrome tab.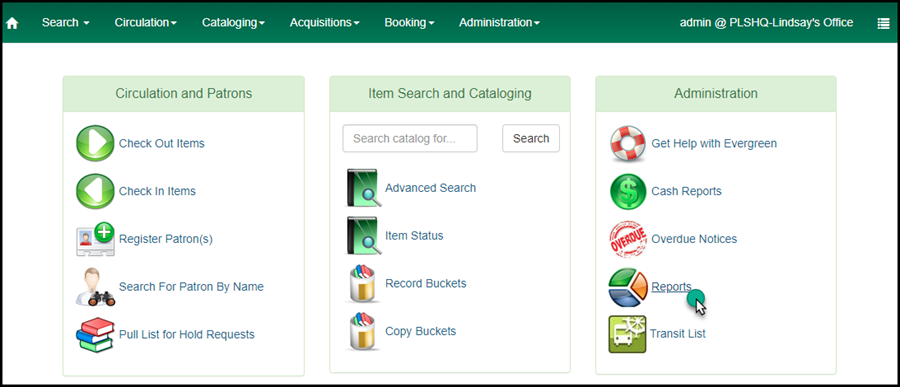 Login to the Report Browser
Access the reports using your Evergreen client login.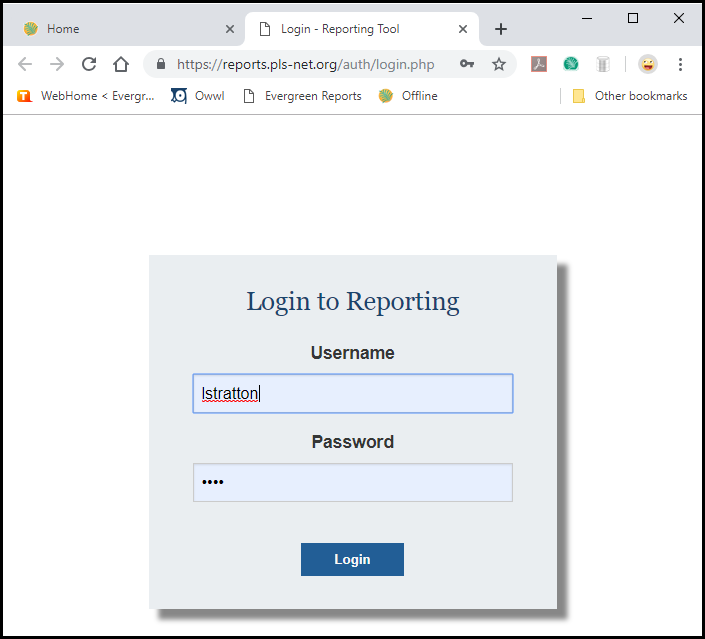 Browse Reports "main screen"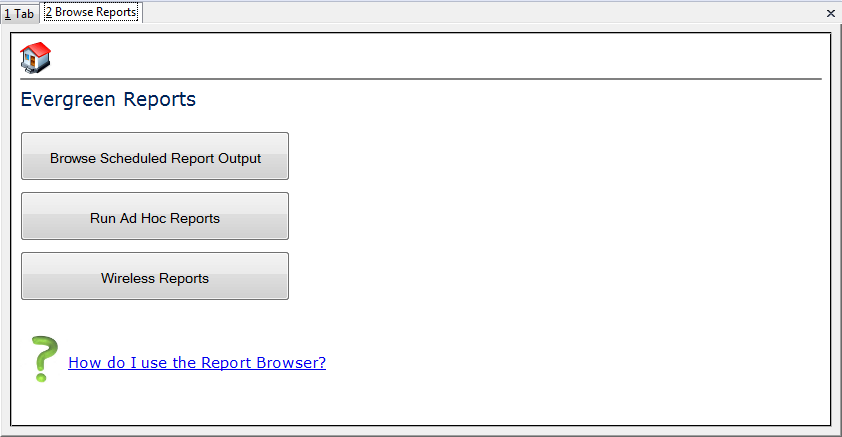 Browse Scheduled Reports
From the Browse Reports main screen, click Browse Schedule Report Output
Select your library
Select the output folder

Evergreen reporter : LIB Output - reports generated by Evergreen's native reporting system (OLD)
Custom PLS Reports - CURRENT reports generated by PLS

Select the report
View All Generic Reports
From the Select your library screen, click All - Generic Reports
Select the output folder
Select the report
Run Ad Hoc Reports
Ad Hoc Reports are specialty reports that can be retrieved as needed. The data in each report output is current as of the time the report is run.
From the Browse Reports main screen, click Run Ad Hoc Reports
From the Reports drop down list, select a report
Click Select Report
Select the library
Enter applicable filters
Click Run Report
See
Reports Ad Hoc Reports
for more detail on working with ad hoc report options.
Navigate the Report Browser
As you click through levels of the Report Browser, "breadcrumb" links appear in a row across the top of the screen. Click the a link to go to that level of the browser.

Depending on the types of reports - Scheduled or Ad Hoc - the options vary somewhat, but the general principle is the same:
To return to the list of available reports, click LIB Output
To return to the list of output folders, click Library Name
To return to the Select your library screen, click Browse
To return to the Browse Reports main screen, click the house icon
Wireless Reports
For more information about using and interpreting the wireless statistics reports, see:
Wifi Usage Report
From the Browse Reports main screen, click Wireless reports
Select your library
Select the report
Click Run Report
To return to the Wireless Reports screen, click the house icon
To return to the Browse Reports main screen, open a new tab and click Browse Reports