Online Public Access Catalog
About
Library patrons access library materials using the Online Public Access Catalog. This is also referred to by its acronym, OPAC, or just the OWWL Catalog. Patrons can access the catalog from the
the OWWL.org
webpage by:
Clicking the Login button to directly enter their Account
Starting a search
Clicking the cover image of one of the NYT bestsellers to go directly to that title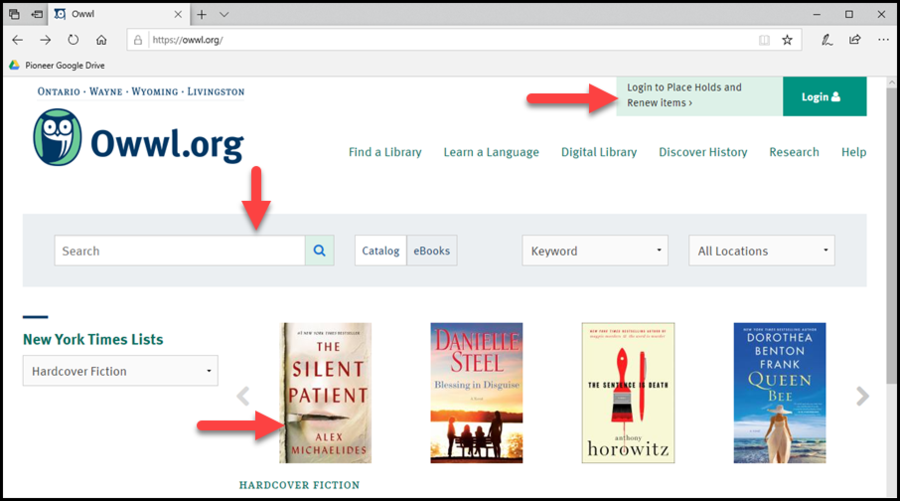 Log in
Click the Login button
Enter your library card number and password
Click Log in
Forgot your password
If you have forgotten your password, you can reset it yourself if you have an email address in your record.
Click the "Forgot your password?" link

Enter your library card number or username
Enter your Email Address
Click Submit
If a record is found that matches the library card number and email address, an email will be sent containing further directions to reset your password

Login Username
Account Summary
After logging in, the Account Summary screen will display. This provides an overview of the account status and any unpaid bills.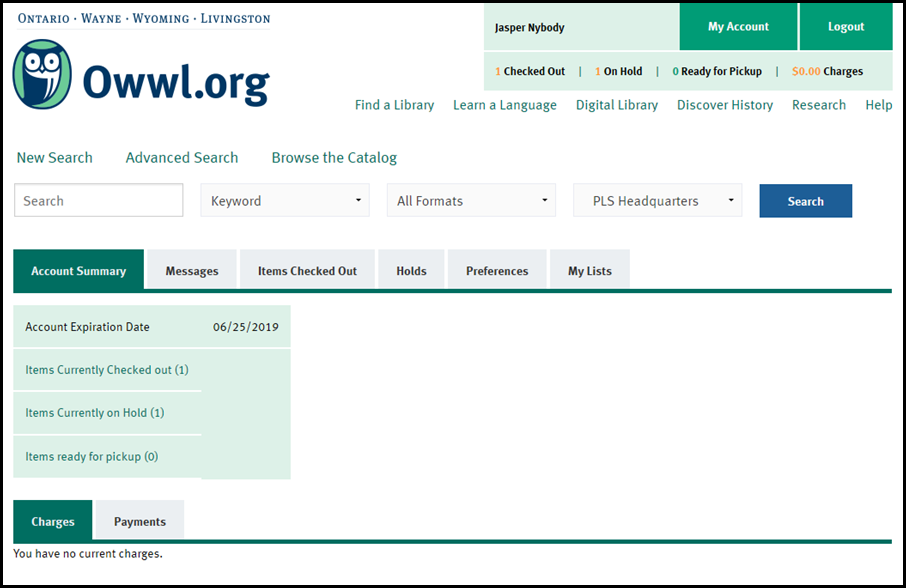 Messages
Library staff can add notes to a patron account to share some kind of information; this feature is not commonly used.
To read a message, click the Subject link.
Actions for selected messages include Mark as Read, Mark as Unread, and Delete.
To take an action from the list, check the box at the beginning of the message row, select the action, and click Go.

Items Checked Out
The Current Items Checked Out tab provides access to information about current loans, including renewals remaining and due date.
Clicking the title link will open the title catalog record.
Clicking the author link will open a catalog search for the author.
To renew items, select the title(s) and at Renew Selected Titles click Go. If the item cannot be renewed, a "Failed to renew..." message will display.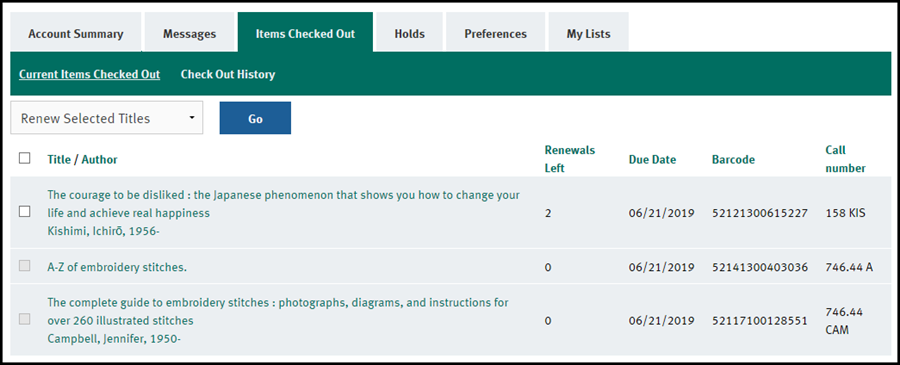 The Check Out History tab will display a list of previously borrowed titles. Check Out History must be specifically turned on, in the Preferences area, before any check out history will be kept.
Holds
The Holds tab lists all current holds.
Clicking "Show holds ready for pickup" will limit the list to only available items.

Suspend/Activate Holds
In the Items on Hold list, select the hold(s)
In the Actions for Selected Holds, select Suspend
Click Go
The hold will be marked Suspended in red
To activate the hold, repeat the process selecting Activate

Cancel Hold
In the Items on Hold list, select the hold(s)
In the Actions for Selected Holds, select Cancel
Click Go
The hold will be removed