Bad Barcode
Evergreen v.2.7
Concepts
Sometimes when an item is scanned in
ItemStatus
,
CheckInItems
,
CheckOutItems
, etc. a "Bad Barcode" alert will display. Typically this happens when the
StrictBarcode
option has been checked and the item being scanned is an older barcode. Strict Barcode tells the system to look for a specific type of code - however, these older barcodes use a different code. These older barcodes ARE compatible with Evergreen - simply uncheck Strict Barcode
Bad barcode alert
When Strict Barcode is checked and an older item is scanned, you will see this alert. To continue with the transaction click Accept Barcode.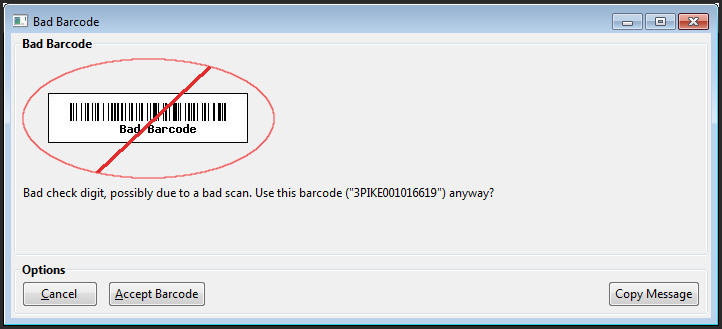 Uncheck Strict Barcode
To prevent this from happening again, uncheck Strict Barcode. Once Strict Barcode is checked or unchecked, it will remain checked or unchecked every time the function is opened.