Web Client Login
v.3
Login
Open Chrome web browser, using your Evergreen profile if applicable
Go to the web client at https://evergreen.owwl.org/eg/staff
Enter Username and password
Workstation should be previously assigned
Click Sign In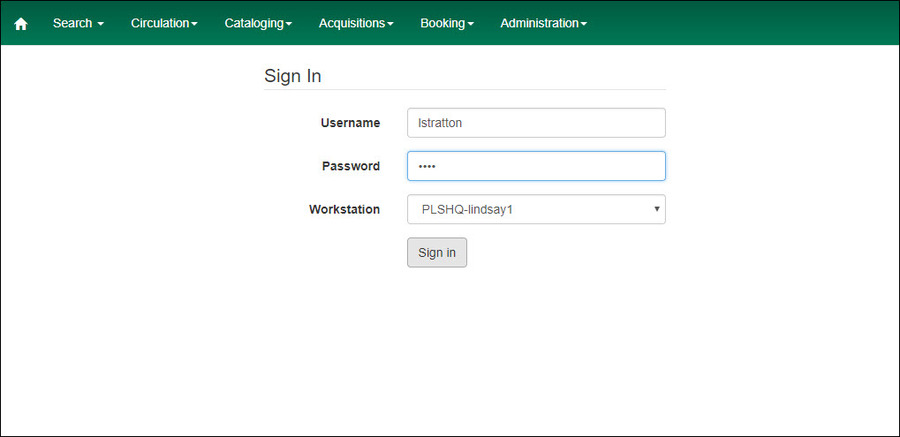 Register a Workstation
Enter Username
Click Sign In



You will be prompted to register a workstation



Enter a workstation name then click Register


Workstation names must be unique, use something that will distinguish this specific workstation from others in the library. Using the computer name, or desk location is a good idea.


The workstation name will now appear in the "Register a new workstation for this browser" line AND the "Workstations registered with this browser"


Click Use Now



Re-enter your username and password
Save password
By default, Chrome will display a save password prompt: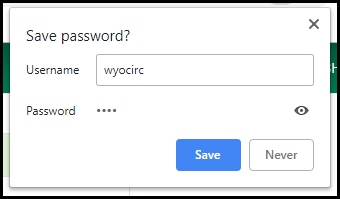 Clicking Never will mark the login as "never save" in the browser settings; if you enter the same login later, you will not be asked to save it. Clicking the X to close the window will not save the password, but you will you get the save password prompt the next time you enter the same login. Saved and never save logins can be managed from the Chrome browser menu (three dots) > Settings > Passwords.
Update saved password
When a saved password is changed, Chrome will display a prompt asking to update the saved password:
Usernames
All libraries have two Staff accounts / usernames for logging in to the Evergreen client. They are referred to as the "Circ" and "Tech" accounts, and the usernames generally use the three letter library code, plus circ or tech - for example: "avocirc" and "avotech" are the usernames for the Avon library. The Circ accounts have permissions that enable staff to perform all circulation related tasks. The Tech accounts include all Circ permissions, plus permissions to manage item holdings records. Some libraries use both usernames, some use only the Tech account. This decision is made by each library according to their workflow needs.
Change Operator
If a library uses both the Circ and Tech logins, there may be occasions when different permissions are needed to accomplish a specific task. For example, a problem with an item is discovered at a circ desk workstation logged in as "circ" in order to fix it the "tech" user needs to be logged in. Using the Change Operator feature, staff can quickly and temporarily change the login without logging out or closing Evergreen.
In the green menu bar, click the Evergreen menu icon
Click Change Operator
In the dialog enter the new login credentials
Select a type of login: Temporary (can be reverted back to the original login, times out quickly), Staff (can be reverted back to the original login, will not time out), Permanent (can not be reverted back to the original login)
Click OK/Continue
Log Out
In the green menu bar, click the Evergreen menu icon
Click Log Out
All open Evergreen tabs in the browser clear and display the Login screen.