Evergreen Login
Accounts
Logging on for the first time
For information on setting up your Evergreen account and logging on to Evergreen for the first time, please see this
page on OWWL Docs (login required)
.
General guidelines
Member library staff should avoid using their individual logins for personal holds and circulation, but can use them for work-related holds and circulation.

This means that you can still check out items or place holds for your personal account while logged on as your staff account. However, you should avoid checking out items directly to your staff account.
Please be careful when searching for yourself in Patron Search. You may have two accounts now! (One personal account and one staff account).

Some activity is tied to your account. For example, when you create or update an item, Evergreen will record the username of the staff member who performed the action.
Some default and/or PLS-customized receipt templates may include information about the staff member. For example, the default checkout receipt includes a line at the bottom that reads, "You were helped by _staff member's first name_"
Workstation settings vs. account settings
Many of the staff settings and preferences are tied to the specific workstation, not to the account that you are logged in on. For example, any checkin modifiers that are set by one logged-in staff operator will apply to any other staff operator using the same workstation. However, some features are tied to a specific login:

Holdings templates are associated with a specific user account. If you make modifications to your holdings templates, you will need to export your templates and have your colleagues import them if you share holdings maintenance duties with others.
Buckets (item buckets, record buckets, and user buckets) are tied to a specific account. Some libraries manage their new items by creating an item bucket (such as "New DVDs August") to make it easy to change the shelving location from New DVDs to DVDs after a certain period of time. If this work is shared among a number of staff members, the best approach is to use shared buckets .
Login
Open Chrome web browser, using your Evergreen profile if applicable
Go to the web client at https://evergreen.owwl.org/eg/staff
Enter Username and password
Workstation should be previously assigned
Click Sign In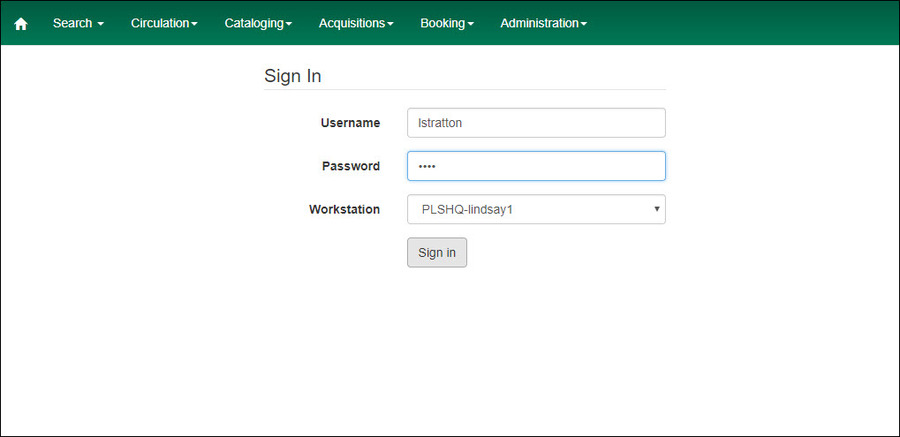 Register a Workstation
Enter Username
Click Sign In



You will be prompted to register a workstation



Enter a workstation name then click Register


Workstation names must be unique, use something that will distinguish this specific workstation from others in the library. Using the computer name, or desk location is a good idea.


The workstation name will now appear in the "Register a new workstation for this browser" line AND the "Workstations registered with this browser"


Click Use Now



Re-enter your username and password
Save password
By default, Chrome will display a save password prompt: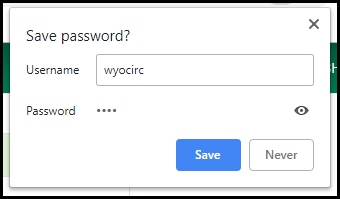 You should avoid saving passwords on shared computers. Clicking Never will mark the login as "never save" in the browser settings; if you enter the same login later, you will not be asked to save it. Clicking the X to close the window will not save the password, but you will you get the save password prompt the next time you enter the same login. Saved and never save logins can be managed from the Chrome browser menu (three dots) > Settings > Passwords.
Overrides and switching operators
If your library is using the Circ I group, you may find that there will be times when a staff member with Circ II (or higher) permissions will need to provide an override. For example, if a staff member with Circ I permissions attempts to merge two patrons, they will receive a popup message that provides the specific missing permission ("MERGE_USERS") and provides an option for a staff member with the applicable permission to override the permission check. A staff member with Circ II (or higher) permissions would be able to enter in their username and password to override the specific permission block.
You may also encounter situations in which you'd like to quickly switch between staff operators for more than just one override. In these situations, the "Change Operator" feature may be useful. Using this option, you can may switch between staff members and then easily switch back. Here's how:

Select "Change Operator" from the top-right hamburger menu in Evergreen.
Type in the new operator's username and password
Select a login type:

Temporary: New login will last for five minutes and then will log out of the staff client entirely. Allows you to revert back to the previous operator by selecting the "Restore Operator" option from the hamburger menu.
Staff: New login will last until timeout, then will revert to the previous logged-in operator. Allows you to revert back to the previous operator by selecting the "Restore Operator" option from the hamburger menu.
Persistent: New login will last until timeout and then will log out of the staff client entirely.
Because PLS has adopted a long timeout, you may not notice a difference between selecting the "Staff" and "Persistent" options. However, if you are having a shift change and switching from one user to another, the "Persistent" option is the best option to choose. It functions essentially the same as logging out of the staff client and then logging in as a new user.

Revert back to the previous operator, if necessary, by selecting the "Restore Operator" option from the hamburger menu.
Log Out
In the green menu bar, click the Evergreen menu icon
Click Log Out
All open Evergreen tabs in the browser clear and display the Login screen.