Web Client - Item Buckets (formerly known as Copy Buckets)
About
Item Buckets are used to collect copy records for batch actions.

Access Item Buckets
From the Home tab, open the Cataloging menu
Select Item Buckets
The Bucket View tab will display
Select Pending Items tab or stay in the Bucket View tab
Pending Items
In the Pending Items tab, staff can scan item barcodes of items they want to add to a bucket.
Click the Pending Items tab
Select an existing bucket

If a bucket was selected in the Bucket View before switching to Pending Items, that bucket will remain selected in Pending Items

Scan item barcodes
Check all pending items, from the Actions menu select Add To Bucket
Select Clear List to work with a different bucket, or switch to Bucket View to work with the items in the current bucket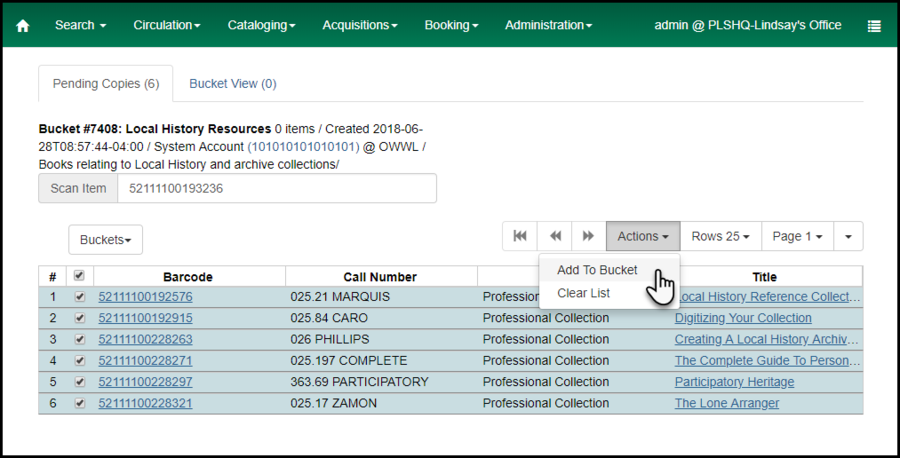 Bucket View
In the Bucket View tab, staff can access their existing buckets to work with the items in the bucket, create new buckets, and manage existing buckets.
Select a Bucket
Click the "Buckets" button to open the list of bucket actions and existing buckets
Click on the bucket to open
Bucket Actions
Bucket
Remove Selected Copies from Bucket
Items
Show
New Bucket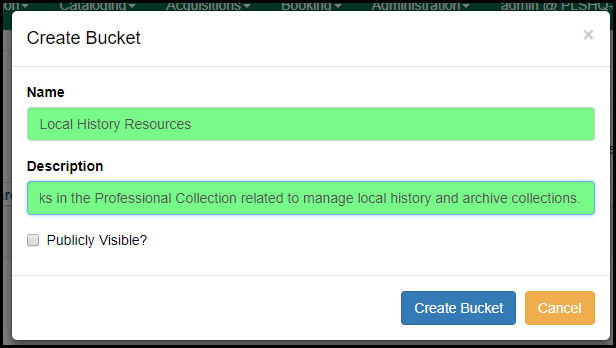 NOTE: "Publicly visible" means that the bucket can be
shared to other staff, even across libraries
. Theoretically it can also be used in the online catalog, but this functionality is not fully implemented.
Edit Bucket
Change a bucket name, description, or shareability.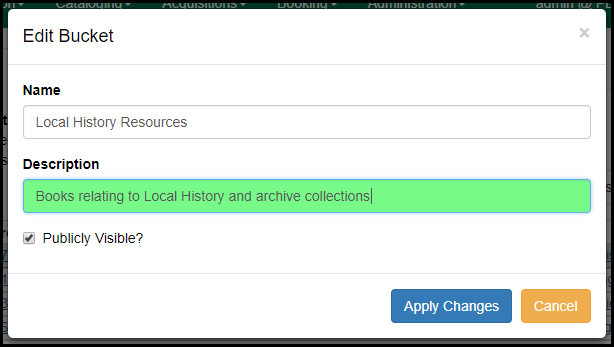 Delete Bucket
Once the bucket is no longer deleted, it can be deleted.
Shared Bucket
If a bucket has been marked "Publicly Visible" it can be retrieved by any staff person who has the bucket ID. The bucket ID can be found in the URL of the bucket page. The bucket owner can share the ID with others.
Bucket ID in URL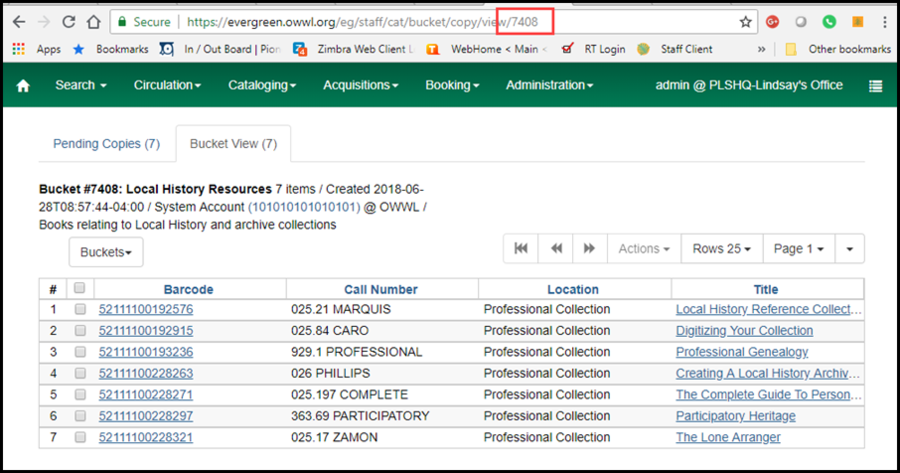 Load by bucket ID

Add Items to Bucket
The Add Item to Bucket option appears in various list views, such as Item Status.
Select the copy record, click Actions
Click the Add Item to Bucket button
In the Add to Bucket dialog

Select an existing bucket and click Add to Select Bucket, or
Enter a name for a new bucket and click Add to New Bucket