Monday Briefing - September 20, 2021
NYLA Legislative Committee
Last week during a NYLA Legislative Committee Meeting, the potential legislative ideas below were discussed:
a digital goods tax
a modernization of Open Meeting Law
a fund for libraries (who choose to join) to invest money that could be used towards paying OPEB (other post employment benefits other than retirement)
a requirement for libraries to offer online card registration (this came from a legislator, not NYLA)
a way to get the money that goes into the Love Your Library income tax check-off box to get out to libraries
a permanent reduction in signatures needed for 414 votes (and perhaps trustee petitions)
a way to make all school book fair sales tax exempt
privacy bills that could address 3rd party vendors
a package of school media bills
the "technical" amendment bill None of these items have formal proposals, they are simply ideas that the committee would like to investigate.
They also discussed the relationship with the new Governor's office. NYLA is working to bring library messaging to the Governor's staff. NYLA is looking to update some budget talking points so is hoping for feedback from the library community. They asked how we would complete these statements;
The ongoing pandemic has affected my system/library budget…(explain how)
Annual State funding for my system/library is used for…(explain what)
An increase in State funding would benefit my system/library…(explain how)
An increase in State construction funding would benefit my system/library…(explain how)
If you have thoughts on any of those four, send them to me and I will make sure they get to NYLA. Finally, Advocacy Day 2022 is scheduled for March 2, 2022, and will most likely be a "blended" event. I assume this means incorporating some in-person and some virtual attendants.
Trip to Ganondagan Follow-Up Resources from Suzanne
Thank you to those who attended our field trip to Ganondagan on Friday. It was informative and insightful and gave attendees a greater understanding of and appreciation for our local history. Below are some follow-up resources based on the presentation and discussions with the First Voice Interpreters of Ganondagan. If you have additional resources to share, please email them to me and I will compile a list on OWWL Docs. If you were unable to make it,
click here for the Ganondagan State Historic Site website.
The Seneca Art & Culture Center and Longhouse have daily operating hours when you can visit for self guided tours. There are also special events that happen throughout the year. I would encourage you to explore the website and try to plan a visit. Thank you, Suzanne
Articles:
Podcast:
Webpages and blogs:
Booklists:
First Nations Development Institute
Rerun: State Library Vision Plan
The New York State Library, in partnership with the Regent's Advisory Council on Libraries, has begun the process to create a new Vision and Plan for New York's Libraries. They have reached out and asked if they could interview me as part of their planning activities. They are particularly interested in digital inclusion initiatives taking place in rural libraries and our work with the Finger Lakes Digital Inclusion Coalition. Below is a list of questions that they would like to ask. If you have any thoughts or opinions that you would like me to share with DLD please let me know by September 27 and I'll bring them up during the interview.
Interview Questions
Are there specific strategic directions you and your constituency are currently implementing and/or focusing on to ensure success in the library community? What's working? What challenges are you facing?
What are the most important opportunities for NY's libraries to act on in the next 3-5 years and why?
What are the most significant challenges facing libraries in that same time frame and why?
What are the most important aspects of diversity, equity, and inclusion in which libraries can play a positive role?
What are the most important aspects of vendor relations that are affecting libraries in a positive or detrimental way?
Articles of Interest
New Books will be Hard to Come by for the Rest of the Year
Book buyers, beware: New books will be in short supply for the rest of 2021. Publishers are warning sellers and consumers that supply chain issues have forced a major slowdown in book production and threaten a shortage of certain titles for the rest of the year. Supply chain problems have touched almost every aspect of book production, storage, and delivery, mostly as a result of Covid-related bottlenecks. Printer capacity issues plagued the publishing industry last year, too, though 2021 is expected to be worse. Source: https://qz.com/2059755/book-publishers-warn-of-supply-chain-delays-for-2021-holidays/
School District Bans Books
York, Pennsylvania (CNN)Students in a southern Pennsylvania school district are battling the latest example of panic spreading over how history and race are taught in schools across the US. Souce: https://www.cnn.com/2021/09/15/us/book-ban-controversy-pennsylvania/index.html
On Aug. 11, the Central York School Board banned a list of resources from Latinx and African American authors. The ban ignited protests from students, school faculty and locals. Below is the full list of banned materials. Source: https://www.ydr.com/story/news/2021/09/14/books-and-other-resources-banned-central-york-school-board/8333108002/
Suze Phillips doesn't have any children in the Central York School District, but that's where the kids in her neighborhood go to school. She has a granddaughter who will eventually be a student there. And the certified history teacher who had dreams of becoming a librarian wants her granddaughter to have as diverse an education as possible. So, the 61-year-old Minnesota native made some changes to the Free Little library that sits in front of her house in Manchester Township. Now there is a sign encouraging readers to "share banned books here." Source: https://www.ydr.com/story/news/2021/09/16/banned-books-woman-invites-readers-share-those-central-york-list/8362244002/
A MESSAGE FROM: Robert F. Lambert, President, York County Libraries Our mission at York County Libraries is to strengthen the York County community and to enrich individual lives by supplying information, providing recreation, promoting literacy, encouraging lifelong learning, and serving as the hub of their communities. We are deeply saddened and disappointed by the decision of the Central York School District School Board to blanket ban or "freeze" over 300 resources -- children's picture books, K-5 books, middle and high school books, videos, webinars, and web links suggested by the district's diversity education committee over a year ago. We have reviewed the entire list. Many of the authors, illustrators, and spoken word artists, as well as their subjects, are people of color. Many of the subject matters are uplifting, affirming, and encouraging. Learning about human rights and learning about other peoples, cultures and perspectives are not political indoctrination. They are the lifeblood of our pluralism and our democratic republic. They are the oxygen for further questions and lifelong learning. They are the launching pad for a dynamic 21st century of diverse collaborations and problem-solving. True to our mission, we welcome you to visit us, explore our diverse collections and to search our yorklibraries.org catalog to locate many of the books on the "frozen" list. If we do not have the title you would like in our physical collection, we will order it for you via statewide interlibrary loan. Despite this unfortunate, misguided, and ill-fated scenario, this ordeal can serve as a launching pad for many teachable moments in York County and beyond. Many of these resources are receiving more attention. Some families are creating mini free libraries outside their homes that feature some of the prohibited books. Please join us in creating a free marketplace of literacy, lifelong learning and ideas. That's what our libraries are all about. Communities throughout York County and beyond can emerge from this more aware and enlightened. We can be better than the status quo. As informed citizens we will be stronger, smarter, and kinder. Source: https://www.facebook.com/YorkCountyLibraries/photos/a.94624413500/10159531291598501/?type=3
Gender and Restrooms on Twitter
For libraries considering the implications of restroom signage.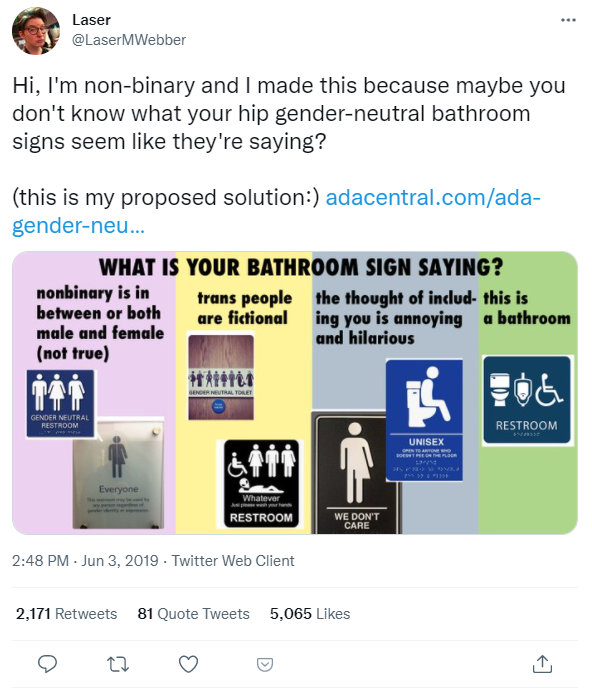 Source:
https://twitter.com/lasermwebber/status/1135619345311100929?s=12
Link in Tweet:
https://adacentral.com/products/restroom-locker-room/gender-neutral/ada-gender-neutral-restroom-sign