Monday Briefing - March 28, 2022
Trustee Handbook Book Club: Policies and Risk Management
Tomorrow night is the Trustee Handbook Book Club on Policies and Risk Management. If you or your Trustees are interested in attending, here is the registration link -
https://zoom.us/webinar/register/WN_Ji0sYwV9TxiHeuWmJq8v8w
Spring On The Hill: An In-Person NYLA Advocacy Event
NYLA is putting together an in-person Advocacy Event to be held May 17-18 at the Hilton Albany, 40 Lodge Street Albany, NY 12207. They are still working out the details, but so far it looks like there will be a day of CE then some targeted meetings around legislative asks not related to funding. I'll be there to represent our System, but if you're interested in attending, let me know and I'll see if any of our Senate or Assemblymembers will be in the region on that day. If not, that's okay too.
Upcoming Deadlines Rerun from OWWL Post
For individuals:
For libraries/Directors:
Save the Date: SLSS Registration Opens Wednesday
The Small Libraries Summer Symposium is a one-day conference empowering small libraries to improve operations, form partnerships, and meet the changing needs of their communities. Sponsored by the Pioneer Library System, the event will be held at our HQ on Friday, July 8 and will be
very
affordably priced. The SLSS will also include a pre-conference mixer at Star Cider on Thursday, July 7 at 6pm. Registration will open on Wednesday, March 30. Keep an eye on your inbox…
Email Scams
Be on the lookout for email scams like the one Bob sent out last week.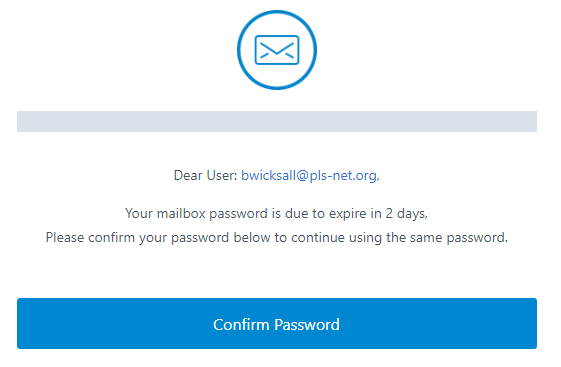 Also, there are quite a few SAM.gov email scams this time of year. To renew your SAM registration, it's best to visit sam.gov directly rather than click on a potentially sketchy email message.
Question of the Week: 501©(3) Status and Libraries
Interestingly enough, there have been four similar 501©(3) questions come in over the past couple of weeks. The main questions relate to the need for the status, the process, completing the annual 990, and which library types need this designation. All very good questions, below are some resources snippets of my research that may be helpful.
According to the Trustee Handbook, "Every association library should obtain federal tax-exempt status under Section 501©(3) of the Internal Revenue Code. This exemption allows the library to avoid federal tax liability and also to be eligible to receive tax-deductible gifts. A library that has such an exemption is required to file Form 990 annually with the Internal Revenue Service. (http://www.irs.gov/Charities-&-Non-Profits/Charitable-Organizations).
If you are unsure if you have this designation already, check to see if you have filed a 990 in the past year. If you did, all the information should be there. If you did not, you may have missed a year. If you miss three years in a row you lose your 501©(3) designation. You can also check by using the IRS search tool https://www.irs.gov/charities-non-profits/search-for-tax-exempt-organizations
Filing the 990 each year isn't too difficult, especially if your library falls under a certain revenue threshold. The IRS has a few helpful Small to Mid-Size Tax Exempt Organization Workshops available at https://www.stayexempt.irs.gov/home/resource-library/virtual-small-mid-size-tax-exempt-organization-workshop

The Form 990 functions in place of a federal income tax return for the exempt organization, and there are large financial penalties for late filing or failure to file. Failure to file three years in a row will result in the revocation of the library's 501©(3) status. Federal law requires that the library's completed Form 990 must be on file at the library and available for public inspection upon request. In addition to the federal tax exemption, each library should also obtain a state sales tax exemption certificate.

Public libraries (municipal, school district, and special legislative district) are a government entity under IRS code, and therefore tax exempt and not 501©(3) corporations. Public libraries may receive a confirmation of tax exempt status from the Internal Revenue Service to use with grant makers and businesses (https://www.irs.gov/government-entities/federal-state-local-governments/governmental-information-letter).

If you are a Public Library with a 501©(3) designation, that's not unusual. We've worked with auditors in the past to help libraries stop filing the 990 in a smooth process.
HBR Tip: Make Your Meetings Worthwhile
No one has time for a bad meeting. So be sure you're not wasting people's time, including your own, by making each meeting purposeful, inclusive (of the people who actually need to be there), and participatory. Start by inviting people to contribute to the agenda beforehand. This will increase everyone's buy-in. Then, explain why the meeting matters before you dive into the agenda. For example, you might say, "I'd like this meeting to move us closer to a hiring decision," or, "We have an important call to make related to next week's product launch." Next, divvy up roles. Whose responsibility is it to challenge ideas that are raised? Who's the final decision-maker? Who's the notetaker? Who's the timekeeper? And, remember, as the leader, all eyes are on you. Set the right tone by verbally recognizing valuable ideas, keeping the scope of the meeting focused, and sustaining positivity in the face of conflicts or discussions on difficult topics. Your team will follow suit. Stop Wasting People's Time with Meetings by David Lancefield - Published: March 14, 2022 PDF: Stop Wasting Peoples Time with Meetings - HBR.pdf