Director Briefing - November 21, 2022
Sexual Harassment Policy Audit in Libraries
A System Director colleague brought this situation to my attention: One of the libraries downstate is currently being audited by the Office of the State Comptroller for compliance with New York's Sexual Harassment Policy and Training Requirement. The library is required to provide:
Proof of training for all employees every year since the law went into effect;
Proof that the employees received the policy annually; and
Proof that the training was compliant with NYS Sexual Harassment prevention law.
It sounds like this audit was triggered through a Municipal Audit; however, all libraries are subject to this requirement, meaning that anyone could be audited for this reason. This would be a good time to make sure you have the documentation and a plan for the upcoming Sexual Harassment Prevention Training.
System Satisfaction Survey
Please complete by December 1, 2022
Each year, Library Systems in New York are required to file a Satisfaction Survey with the Division of Library Development on the progress of their five-year plan. This is different than our Strategic Plan. The goals in our
2022-2026 Plan of Service
are more general with a broad view of System work. This will be the first year for the Plan of Service filed in 2021, however, I can already see that we will need to approve some amendments in 2023 due to changes in aid programs, System activities, and System goals. Please consider everything the System has done for this survey over the past 12 months. Activities like the Small Libraries Summer Symposium, Trustee Book Club, Traveling Summer Storywalks, email transition to owwl.org, the System name change, and other specific items are not necessarily directly referenced. Your responses will help us evaluate our activities as well as consider amendments to the Plan of Service. A huge thank you to the following libraries for being the first to complete the form:
Cordelia A. Greene Library
Victor Farmington Library
Perry Public Library
Honeoye Public Library
Wood Library Association
Caledonia Library Association
Red Jacket Community Library
Naples Library
Red Creek Free Library
Avon Free Library
Ontario Public Library
I'll have a squishy delivery van for everyone who completes the survey.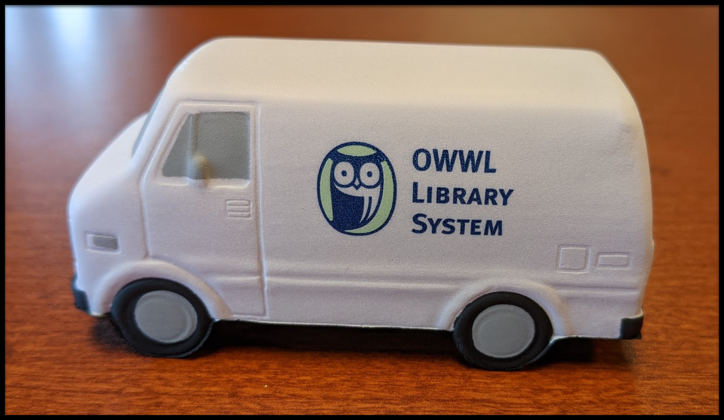 The survey will be open until
December 1, 2022
.
LibCal Subscriptions for 2023 from Kathryn
We have some exciting news to share! For 2023, LibCal subscription costs will be paid in full by OWWL Library System! Participating libraries will have a full year of access to make use of the calendar without any cost to you. The cost per library for 2022 was $42.00 based on the number of libraries that subscribed. If you are interested in subscribing to LibCal for 2023, please let me know by Monday, November 28th. For those who have already responded "yes," you do not need to reply again. Training will be provided as requested. I hope you will take advantage of this opportunity to promote your library programs to your communities.
Libby Update from Kathryn
I am passing on this information that includes a link to a short video detailing a new feature coming soon to the OverDrive Libby app: In the coming days, Libby will release an update to automatically show users with multiple library cards the quickest option to access the title they want to read. Here's how it will work:
If a book they're interested in is available to borrow from their active library (i.e., the library collection they're searching in), they'll see the option to Borrow from that library.
If there is a waitlist on the title at their active library:

They'll see the option to Borrow from one of their other saved libraries (if it's available from one of them).
They'll see the option to place a hold from the library with the shortest wait list. This may be their active library or one of their other saved libraries.
After borrowing or placing a hold, the user's active library won't change.
*Note*: When a user runs a search, Libby will not show content that isn't in their active library's collection. Additionally, while Libby shows the quickest way to get a title, users can still see the title's availability across all their libraries and choose where to take action. See how this works on Libby Help.
Watch this
quick overview video
about the update. This update will provide the following benefits:
Keeps users in their active library—Your users can see the best availability for the titles they want to read without leaving your library's collection.
Minimizes "extra" holds and reduces overall wait time—Presenting the shortest wait time up front will help prevent users from placing extra holds at multiple libraries.
Increases user satisfaction—The faster users can access the book they want to read, the happier they'll be. Satisfied users are more likely to keep returning to your library's collection for their next book.