Board President Briefing | September 2, 2022
Trustee Handbook Book Club After Party Part II
The
Trustee Handbook Book Club After Party Part II
is now live on Mid-Hudson Library System's Website!
In this session
, the THBC team takes on questions from previous sessions that relate to:
Budgets & Finance;
Facilities;
Policies & Risk Management;
Ethics, Conflicts of Interest, Intellectual Freedom, Censorship, and Privacy;
Planning & Evaluation; and
PR & Advocacy.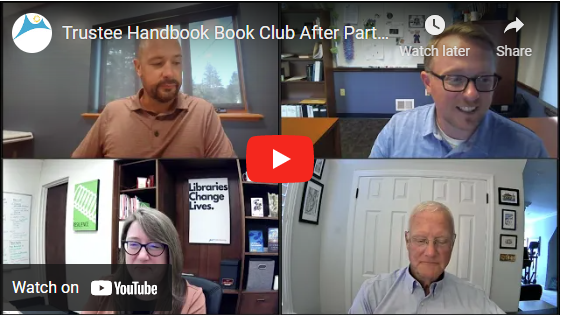 Direct Link to Recording
Resources
:
System Annual Meeting, Election of Trustees, & State of the System
The System Annual Meeting, Election of Trustees, & State of the System on October 12, 2022 at 6:00pm. This will be a low-key virtual (or in-person if you'd like to come to OWWLHQ) event where we will elect System Trustees and discuss the State of the System.
Click here for the calendar information
.
2023 Long-Range Planning Cohort
To help libraries maintain compliance with a board-approved long-range plan, I will establish a working group of libraries interested in developing or revamping their plans in 2023. The goal will be to meet monthly with Library Directors, Board Presidents, and/or Planning Committee Chairs to discuss activities the library can implement to collect community feedback. Each library will develop its individual plan; this cohort is simply a way to have a broader reach on this System consultation and an opportunity to work with your peers. Let me know if your library needs to update its plan in 2023 and if you would like some help.
Firearms in Libraries: New Law in New York
Just a reminder that starting yesterday, Senate Bill S51001 goes into effect. This bill relates to licensing and other provisions relating to firearms, including prohibiting individuals from carrying weapons in defined sensitive locations (libraries are on the list). Police officers, active duty military personnel, and a select few other professions are exempt from the list, but average citizens are bound by this new law. Since this was such a controversial bill, I imagine more information will come out, so I will keep you posted.
Effective September 1, 2022, the possession of a firearm, rifle, or shotgun is prohibited in sensitive locations. Under the law, the following are considered sensitive locations:
Any location owned or under control of federal, state, or local government for the purpose of government administration, including courts;
Any location providing health, behavioral health, or chemical dependence care or services;
Places of worship or religious observation;
*Libraries, public playgrounds, public parks, and zoos*;
NYS Office of Children and Family Service licensed or funded facilities (childcare facilities);
Nursery schools, preschools, summer camps;
NYS Office for People with Developmental Disabilities licensed or funded facilities;
NYS Office of Addiction Services and Supports licensed or funded facilities;
NYS Office of Mental Health licensed or funded facilities;
NYS Office of Temporary and Disability Assistance licensed or funded facilities;
Homeless shelters, family shelters, domestic violence shelters;
NYS Department of Health licensed or funded residential facilities;
Colleges, universities, private schools, public schools, and other educational institutions;
Public transportation and transit facilities;
Bars and restaurants serving alcohol, and on-premises cannabis consumption locations;
Theaters, stadiums, racetracks, museums, amusement parks, performance venues, concert halls, exhibit halls, conference centers, banquet halls, gaming facilities, video lottery terminal facilities as licensed by the gaming commission;
Polling places;
Public sidewalks and other public areas that are restricted from general public access for a limited time or special event;
Gatherings of people to collectively express their constitutional rights to assemble or protest; and
Times Square (with boundaries determined by New York City).
Source: https://www.criminaljustice.ny.gov/pio/New-Gun-Law-FAQ-8-27-22.pdf
2022 OWWLie Nominations are Open!
The Third Annual OWWLie Awards will be held at OWWLHQ on Friday, December 16 at 10am. The OWWLies honor those who made interesting, entertaining, and/or innovative contributions to their library, the OWWL Library System, and/or the larger library community.
Like in previous years, the OWWLie Awards will be created by you! Decide who you believe deserves recognition for whatever reason and fill out a nomination form. Creativity welcomed and encouraged!
Click here to access the nomination form
. Nominations are due by Friday, October 28.
Questions can be forwarded to Suzanne at
programs@owwl.org
.
The Great Give Back
This fall,
the OWWL Library System is sponsoring a system-wide Great Give Back service project collecting supplies to support local teachers and their students
. Many educators pay out of pocket to supplement their classrooms, especially in schools and districts with families who are experiencing poverty or financial hardship and are unable to purchase supplies. Participating libraries can collect basic classroom supplies such as pencils, paper, pens, glue, markers, etc, and/or off-list teacher needs such as Post-its, Lysol wipes, tissues, Expo markers, Sharpies, snacks, etc.
So far we have 27 libraries registered!
Participation is voluntary, and libraries that already have a dedicated service project for the Great Give Back should feel comfortable continuing with their plans. The Great Give Back is a fantastic opportunity to strengthen community ties, support our partners in education, and build relationship equity with patrons and stakeholders. Directors have been sent all the information if they would like to participate.
Questions of the Week:
Libraries and Funding
Question: At the Small Libraries Summer Symposium, you presented An Introduction to Funding Your Library. In the presentation, you had jokingly said that you had a funding plan for all the libraries in the System. Were you serious? If so, could I use that plan?
Good question, and it made me chuckle. This is the second time I've been asked this (the first one referred to this as my "Super Secret Ninja Library Plan..." I liked that a lot). Anyway, it's nice that people enjoyed the presentation and are thinking about funding. While I have yet to develop a full-fledged funding plan for each library, I have thought about scenarios for all of our libraries at one point. It is incredibly difficult to consider all the variables certain decisions would have on each library, especially since most have had the same service area for decades. Still, I do have a few general thoughts to give you an idea of what I consider when thinking about the future of funding. In broad strokes, my main priorities are serving unserved areas, establishing community-based funding, the public election of trustees, and eliminating overlapping funding sources. Funding decisions need to happen at the local level, and your board has the final say in the future of your library. If you were to ask me to talk about it from an outside perspective, here are a few items I would focus on…
Area of Consideration One: Unserved areas
. It is a professional goal of mine to eliminate as much "red" on our district maps as possible. The "red" areas are unserved jurisdictions that have not been "claimed" by a library charter. Some areas may always be unserved, but most of them could have a positive outcome. There are even some new solutions may help charter some long-standing red areas. While not always directly related to funding, this certainly impacts funding scenarios when considering the next point of tax levies.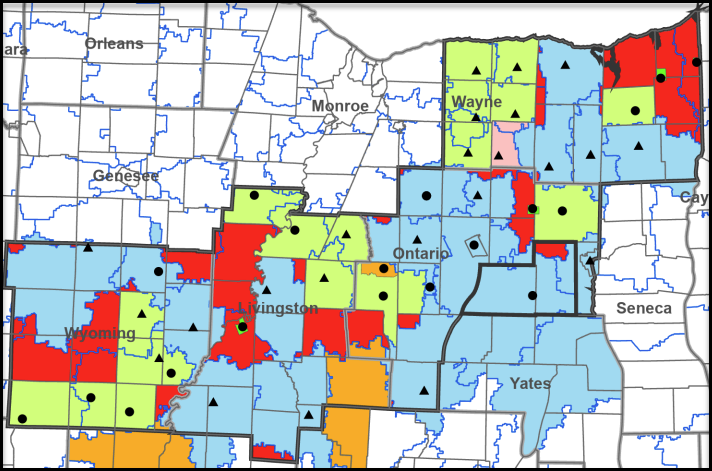 Area of Consideration Two: Tax levies
. Regardless of type, a funding plan for each library should include 90% of its total operating budget coming from a 259 tax levy, a 414 tax levy, or a special legislative district tax levy. This is the only way to secure a library's future. Donations, appropriations, and fundraising are too ephemeral for long-term sustainability. If your library has been operating on those methods to date without a problem, that's great. I am glad it's still working. However, there is an eventual downturn in everything, and someday, those funds may not be available. By then, shifting to tax-based funding may be too late. Along these lines, here are two of my favorite Trustee Handbook quotes, "
A public library is a public service and secure, reliable public funding is the most appropriate way to pay for it. A public library is not a charity!
" and "
To rely on donations for critical operational expenses such as salaries, building maintenance and utilities is inviting a crisis for the library
." Getting a library to at least 90% sustainable funding may take time, but it's necessary for long-term sustainability.
Area of Consideration Three: Publically elected trustees
. This is another odd one that doesn't come directly tied to money. However, putting a public referendum up to vote along with the representation from the community being taxed is one of the best ways to be positive financial stewards in your community. For Association Libraries, this practice offers increased transparency to accompany public funding. For Municipal Libraries, library boards elected by the public have more control over library operations than those who are appointed by the town or village boards. The library becomes completely autonomous and separated from the political environment of the municipal government. School District Library Boards already have elected trustees, so you're all set.
Area of Consideration Four: Overlapping funding sources
. Libraries with overlapping or compounded funding streams such as appropriations from Towns and Villages and a tax levy may have issues in the future. While not technically considered double taxation, they are a form of "double dipping," which is frowned upon by taxpayers and may eventually be another area of study through legislative action. This goes back to having one funding source that makes up at least 90% of a library's funding. There is a lot to consider when evaluating library funding, but these are a few of the first things I look at. If your board would like to discuss funding (or any of these items), I'm happy to attend a board meeting or host an educational session (educational sessions are not open to the public, making it more comfortable to ask questions in the early stages). All of these items are at the front of my mind right now because of the potential impacts of the double taxation study, the possibility of consolidated districts (because of the new Governor), discussions of the Association Library District model, and the potentially precarious financial health of the State for the next few years.
Volunteers and Staff
Question: Can a paid employee also be a volunteer? We have a volunteer who recently came onto the books as a substitute front desk staff member but wants to continue to volunteer occasionally, is that allowed?
Great question. This one gets a cautious yes, but with some hefty restrictions. According to the New York Department of Labor, "
A person who is a paid employee of such an organization may volunteer for that organization. However, the type of work they do as a volunteer must be completely different from the type of work they do as an employee
." Our friends at the DOL go a bit further in defining what type of volunteer work is allowed by listing a few restrictions:
Unpaid volunteers may not:
Replace or augment paid staff to do the work of paid staff
Do anything but tasks traditionally reserved for volunteers
Be required to work certain hours
Be required to perform duties involuntarily
Be under any contract to hire

by any other person or business
express or implied

Be paid for their services (except reimbursement for expenses)
The first two bullet points usually shut down any "volunteering" at a library because many of the tasks are also performed by paid staff. For example, if your paid library clerks shelve books, you would not be able to have a volunteer do the same work since it is "augmenting paid staff," and it is not a task "traditionally reserved for volunteers." So, while an employee could potentially volunteer at the library, it would need to follow the rules of volunteer work AND be completely different from their current job duties. NY DOL is very specific about this, and since there are so many overlaps in library workers' positions, there are very few situations where you would be able to allow this. If your library has a separate Volunteer Handbook with clearly defined tasks that are reserved for volunteers, you could potentially find something. However, without that, you're better off paying the staff member whenever they're at the library working and refrain from utilizing them as a volunteer. Last year I drafted the
Volunteer Handbook Word Document
to help libraries set up a volunteer program that would be legal with the Department of Labor. This was modeled on a few examples and interpretations of existing laws. You may find it helpful in developing your library's volunteer program.
Reminders
Trustee Education Requirement
Starting on January 1, 2023, Library Trustees must track and report their continuing education. Each Trustee is required to participate in two hours of training annually according to
Section 260-D of State Education Law
. Each Library must also adopt a policy that dictates how the Trustee Education Requirement will be implemented. Here is a draft version I will bring to the System's Policy Committee for discussion,
Sample Trustee Education Policy
. You are welcome to use it as a template for your policy or develop your own. The Division of Library Development has a helpful
Trustee Education Requirements Frequently Asked Questions
page that may help.
First Amendment Audits
There is a "First Amendment Auditor" targeting government buildings and libraries in Wyoming County. This will most likely continue into the foreseeable future, so if you have not done so, now is an excellent time to review the policy that the System attorney developed for us last year. Be sure to review your code of conduct, meeting room, and other policies to ensure that everything is up to date and in alignment. Policies are the local law of the library, and you need them to enforce rules.
"First Amendment Audits" and Recording Policy (from November 29, 2021 Monday Briefing) Last week Stephanie Cole Adams, Esq. drafted a "'First Amendment Audit' Public Library Response Policy" for us. Libraries can adapt and adopt this to help handle situations related to public recording and "First Amendment Audits." The policy covers recording in the library, a simple outline on how to handle conversations with "First Amendment Auditors," and notes from Cole herself. For more information on these audits, ALA published an article in August 2021 - https://americanlibrariesmagazine.org/2021/08/26/uptick-in-first-amendment-audits/
Personnel Handbook Developed by HR Works
Earlier this year, I shared the Employee Handbook template created by HR Works with Directors. This is a reminder that each library must have Personnel Policies in place, and the template is a great resource. It has been vetted by attorneys and includes all the items your library needs to consider. Visit
https://docs.owwl.org/Community/EmployeeHandbookTemplateProject
for the template and recording of the Director Workshop from March 2022.