Web Client - Search the Staff Catalog
Search
The Staff Catalog provides access to title, volume, and copy records and cataloging and holdings maintenance functions. Staff have access to different information than patrons. Performing a search can be as simple as typing keywords into the search box and clicking the Search button. Or you can make your search more precise by limiting your search by fields to search, material type or library location.
Types of search
There are several types of search available in the staff catalog
Keyword Search - default web client search; combine multiple indexes, select multiple filters, single library selection, etc., includes additional options for numeric and MARC searching
Numeric Search - can be used to search for specific ISBNs, ISSNs, UPCs, or even item barcodes
MARC Search - use to search one or multiple MARC tags / subfields
Browse - browse feature, can be used to search based on title, author, subject, or series
Shelf Browse - shelf browse feature, based on title, author, subject, series, by OWWL or a single library
Keyword Search
Enter a search term
Select a search index
Select a format (optional)
Select a library (use OWWL to see all holdings)
Click Search

A basic keyword search, limited by a format, is usually sufficient for the majority of catalog searches! Search form: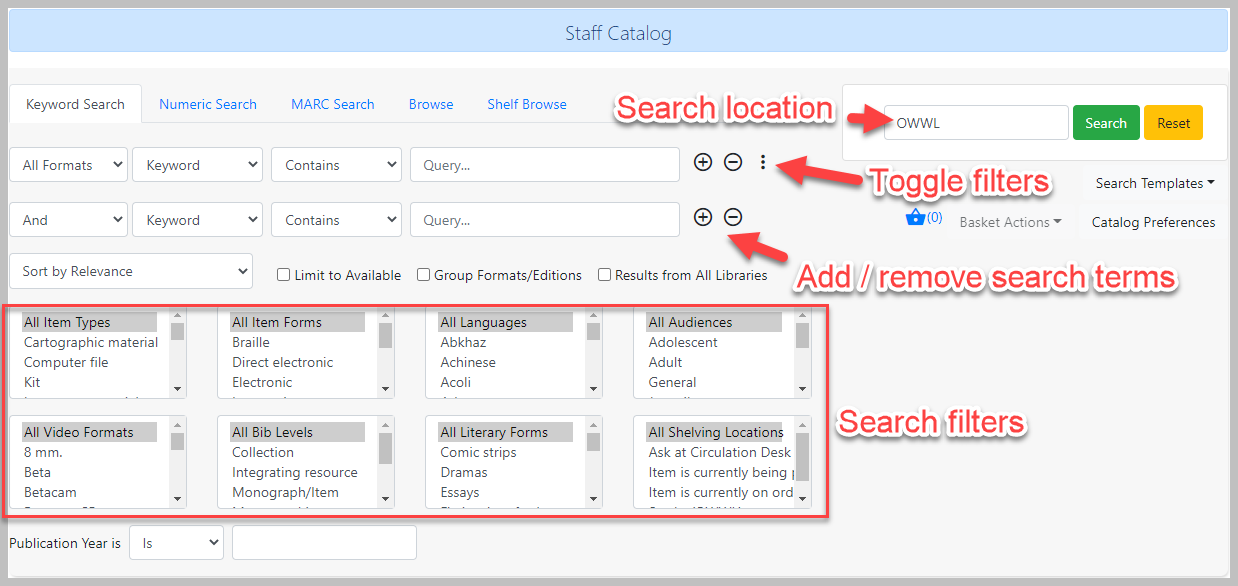 Search Indexes
Certain parts, or fields, in the catalog record are processed so that searches look at particular fields and are more efficient - these processed fields are called search indexes. The search indexes include:
Keyword - all fields in the record except for publisher and place published; a keyword search will match the search term almost everywhere in the record, even parts that do not display in the catalog view.
Title - title information can be recorded in several fields; the title index combines them all for searching, and the search will only look for a match in those fields.
Journal Title - searches title fields, but also adds the format filter specifically for serials (magazines, journals); the search will only look for a match in those fields.
Author - author information is also recorded in several; the author index combines them all for searching, and the search will only look for a match in those fields.
Subject - there are several types of subject headings, including topic, name, geographic, etc.; subject headings are pre-defined terms, and have historically been applied to non-fiction works. Subject searching can exclude relevant results because the search term may not match a subject term, or a work may not have complete subject headings.
Series - series information requires specific fields in specific combinations which are not always present in the catalog record; series searching can be highly inaccurate.
Digital Bookplate
Using multiple search terms
The staff catalog allows you to add additional search terms to your search. To do so, press the '+' to the right of the first search term. When you add additional search terms, you may select whether the additional terms should be added as an AND search (all terms required for a match) or an OR search (either term required for a match). To remove additional search terms you've added, press the '-' button to the right of the search term's row.
Search Filters
The staff catalog allows you to add additional filters. These include:
Item type
Item form
Language
Audience
Video format
Bib level
Literary form
Shelving location (note that only the shelving locations for the search location will display in this filter)
Sorting results
By default, the search results are in order of greatest to least relevance. In the sort results menu you may select to order the search results by relevance, title, author, publication date, or popularity.
Limit to Available
Select Limit to Available to limit results to those titles that have items with a circulation status of "available" (by default, either Available or Reshelving).
Search Tips
Evergreen tries to approach search from the perspective of a major search engine: the user should simply be able to enter the terms they are looking for as a general keyword search, and Evergreen should return results that are most relevant given those terms. For example, you do not need to enter author's last name first, nor do you need to enter an exact title or subject heading. Evergreen is also forgiving about plurals and alternate verb endings, so if you enter
dogs
, Evergreen will also find items with
dog
. The search engine has no
stop words
(terms are ignored by the search engine): a title search for `to be or not to be` (in any order) yields a list of titles with those words.
Don't worry about white space, exact punctuation, or capitalization.

White spaces before or after a word are ignored. So, a search for `[ golden compass ]` gives the same results as a search for `[golden compass]`.
A double dash or a colon between words is reduced to a blank space. So, a title search for golden:compass or golden -- compass is equivalent to golden compass.
Punctuation marks occurring within a word are removed; the exception is \_. So, a title search for gol_den com_pass gives no result.
Diacritical marks and solitary `&` or `|` characters located anywhere in the search term are removed. Words or letters linked together by `.` (dot) are joined together without the dot. So, a search for go|l|den & comp.ass is equivalent to golden compass.
Upper and lower case letters are equivalent. So, Golden Compass is the same as golden compass.

Enter your search words in any order. So, a search for compass golden gives the same results as a search for golden compass. Adding more search words gives fewer but more specific results.

This is also true for author searches. Both David Suzuki and Suzuki, David will return results for the same author.

Use specific search terms. Evergreen will search for the words you specify, not the meanings, so choose search terms that are likely to appear in an item description. For example, the search luxury hotels will produce more relevant results than nice places to stay.
Search for an exact phrase using double-quotes. For example "golden compass".

The order of words is important for an exact phrase search. golden compass is different than compass golden.
White space, punctuation and capitalization are removed from exact phrases as described above. So a phrase retains its search terms and its relative order, but not special characters and not case.
Two phrases are joined by and, so a search for "golden compass" "dark materials" is equivalent to golden compass and dark materials.

Truncation: Words may be right-hand truncated using an asterisk. Use a single asterisk * to truncate any number of characters. (example: environment* agency)