Identifying Suitable MARC Records
About MARC Records
MARC stands for "MAchine Readable Catalog" and refers to the standard that translates a bibliographic record (created using AACR2 [Anglo-American Catalog Rules, 2nd. ed.] or RDA [Resources Description and Access] rules!) into a format that can be processed by computers. MARC is one of the reasons why we have online catalogs that we can search. Each piece of item data is placed into a specific field - indicated by a three-digit number, or subfield - indicated by a symbol and a letter. It is important to understand enough about the MARC format and codes to understand what we are seeing when we look at a catalog record, and, when adding new records to the database, to match the items we have in hand to catalog records. This page outlines the key MARC fields with brief notes about what pieces of information can be in the same record and which cannot. For more detailed information about adding an
item to a MARC record that does not
exactly
match the item in hand, see:
Evergreen.HoldingsCloseEnoughRecords
.
Books
Fields to verify in MARC records for books:
020 - ISBN

Multiple ISBNs are acceptable on a catalog record when multiple binding types - hardcover, paperback, turtleback, library binding, etc. - are combined

100 - Personal author
245 - Title

Can include author, names of illustrator, author of introduction, foreword, preface, etc.

250 - Edition

identifies edition number, format (large print, audio)
Different editions and formats should go on separate records. e.g. "Third Edition" and "Fourth Edition" have separate records. Large print, abridged, unabridged, must have separate records

300 Physical description:
Sample
book
MARC record: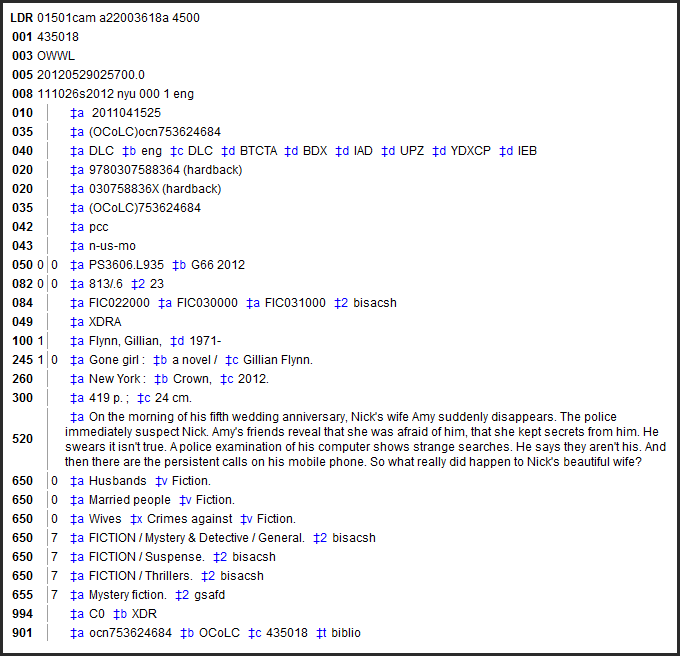 Children's books
Children's books are often published in library binding, trade binding, paperback, and reinforced paperback. They have different ISBNs. All should be on the regular print edition catalog record.
Paperback books
Paperback copies should be on the regular print edition record, unless there is significant change in content. Revised edition, new introduction or preface, new illustrations require new catalog records.
Audio Books
Match on:
028 Distributor or product code

may vary from the catalog record

245 Title
250 Edition

either abridged or unabridged

Very important that this is in the record. A separate catalog record is needed for abridged editions.

300 Physical Description

running time - may vary (due to recording speed)
number of items - may vary (due to running time/recording speed)

300 Format
500 Note
511 Narrator
Sample
audio book
MARC record:
Large Print Books
Match on:
100 Author
245 Title
250 Edition

Should say "Large print edition"

264 Production, Publication, Distribution, Manufacture, and Copyright Notice
300 Number of pages
6XX Subject heading

Should say "Large type books."
Sample
large print book
MARC record: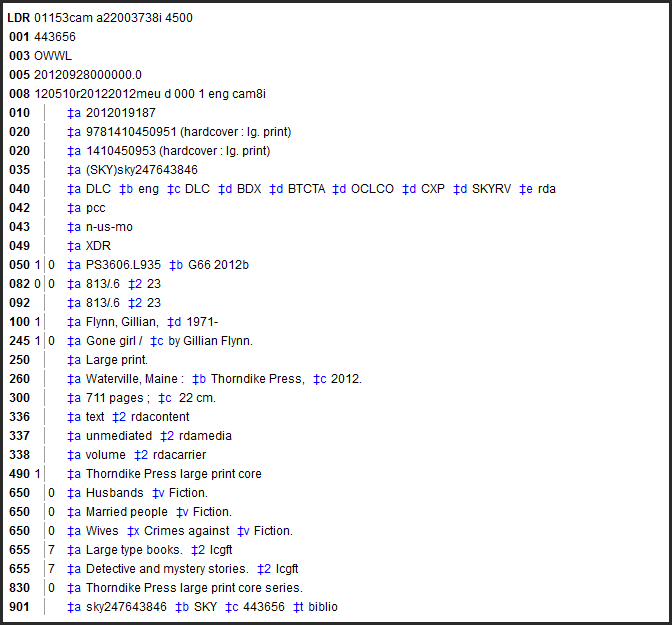 Video
Match on:
245 Title

content might include director, actors, producer, production company, screenwriter

250 Edition
300 Physical description

format (VHS or DVD)
number of cassettes or discs
running time

500 General note

may have product type – VHS or widescreen DVD or fullscreen DVD

508 or 511 Performers or Credits
Summaries, rating information, notes on dubbing or subtitles are all good to have included in a record. Contact a cataloger at
cataloging@pls-net.org
to have this information added. Sample
videorecording
MARC record: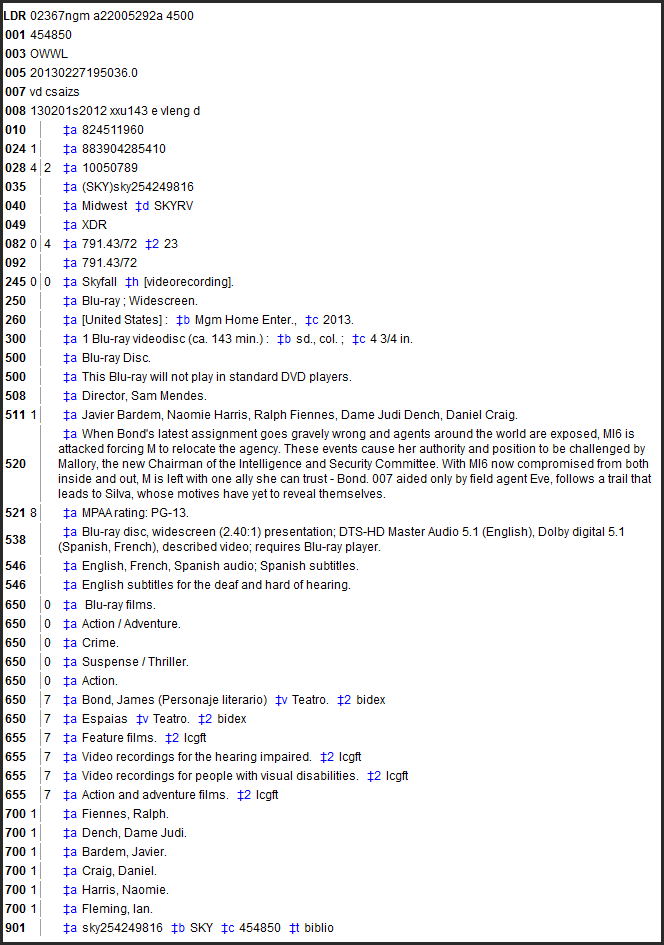 Videogames
Match on:
245 Title
250 Edition

Typically game system: Nintendo GameCube, Nintendo DS, Play Station, Play Station 2, Xbox, etc.

300 Physical Description

Ex.: Computer optical disc, CD-ROM, etc.

538 System Details Note

System requirements: type of game system, computer processor speed, etc.
Sample of a
videogame
MARC record: