January 2020 Trustee Newsletter
Happy New Year!
This past year (particularly in the last six months) has been a rebuilding year for us here at the System. We have new leadership, new staff, and new Trustees to help us accomplish our strategic goals over the next few years. Thank you to everyone who has given us support and patience through these transitions, we appreciate it more than you know. In 2020 we have a handful of goals we would like to accomplish, some of the larger items include supporting member libraries in meeting the updated minimum standards; working with other library systems on Evergreen development; using E-Rate funding to upgrade member library network equipment; and working on laying the foundation for changing our System identity. These are ambitious goals, but I have no doubt that our team will be able to handle them. You can take a look at all of our goals on our
2020-2022 Strategic Plan
. Also coming in 2020 will be a new set of Trustee/Director Workshops. I am currently working on a list of topics, locations, and times. If you have suggestions workshops you would like to see or if you would like to host an event at your library, send me an email at
rkirsop@pls-net.org
and let me know.
This is going to be a good year. So, from all of us here at the System, Happy New Year!
New Trustee Newsletter
New Year, new Trustee Newsletter. We are experimenting with moving away from
MailChimp
newsletters in order to focus on developing and drawing attention to the resources on Owwl Docs. Owwl Docs is a Wiki where we will post public information on our
Community web
about grants, resources, and other pertinent information. Most of the information will be for library directors and staff, however, I am planning on adding a section for Trustees. The goal is to provide one location that will house the resources you need to perform your Trustee duties without having to search through our website. I'll be sure to announce new resources as they become available through this newsletter.
Advocacy in 2020
In-district and Albany visits are currently being scheduled for our 2020 Advocacy season. Remember, Advocacy Day 2020 is happening on Tuesday, February 25; we'll have the bus registration ready to go soon. If you haven't attended in the past it's a great opportunity to see how advocacy in our region works. This year we have two definite items on the legislative agenda and another that may come up soon. The two that we will be focusing on are $200M in Library Operating Aid and $75M in NYS Library Construction Aid. These priorities are listed in this link to
NYLA's handout
as well as on
NYLA's Advocacy page
.
https://pls-net.org/AdvocacyDay2020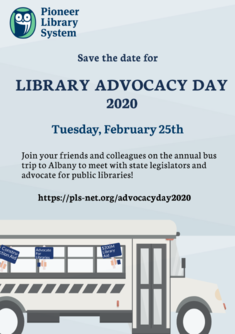 A Big Thank You to Friends Groups
Thank you so much to the Friends Groups who have donated funds to help pay for the bus trip to Albany. So far we've had twelve groups send in donations and we really appreciate it.
Bloomfield Public Library
Lima Public Library
Livonia Public Library
Macedon Public Library
Naples Library
Ontario Public Library
Red Jacket Library
Sodus Community Library
Victor Library
Wadsworth Library
Walworth-Seely Public Library
Warsaw Public Library
Wood Library
It's not too late if your group would like to help sponsor our trip to Albany.
Fees and Grants Document 2020
Every year, Pioneer Library System's Board of Trustees approves a Fees and Grants document which outlines the charges that member libraries pay into the system and the services they receive. At the December Board Meeting, the PLS Board approved the 2020 version of this document and thought it would be appropriate to distribute the information to member library boards as well. It can be found under the "About" section on our website, or by clicking this like here -
Fees and Grants 2020
.
Trustee Education Legislation
Back in August, this Newsletter discussed a pending regulation that would require Library Trustees to receive two hours of training every year for the duration of their term; this regulation has stalled at the state level due to staffing issues and other priorities taking precedence. Because of this setback, the NYLA Legislative Committee and NYLA Council have decided to move forward by adding this to their 2020 Legislative Priorities. Currently, the legislation is being drafted by NYLA then they will be looking for a legislator to sponsor the bill. Once it is signed it will go into effect. It is still unknown if this legislation will coincide with the tracking of the updated Minimum Standards, however, if it is signed this year my guess would be that it would be enforced sometime in 2021. Below is part of the article from August to provide some background.
To give you a bit of background if you haven't heard of this yet, this new regulation, §90.20 Trustee education requirements for library trustees in registered public, free association, and Indian Libraries, creates a requirement for all library trustees to receive two hours of training annually in order to stay in good standing with the state education department. This is similar to the requirements for other types of boards and would be enforced by the state education department. The training will most likely be tracked by a question on your library's Annual Report starting in 2021. If a trustee does not comply with the regulation it looks like a variance process will be in place allowing an additional year to become compliant. If the trustee is still out of compliant after year two their position as trustee will be deemed vacant by the state.
Luckily, library systems are specifically mentioned as approved providers of training within the proposed regulation. This means that any Pioneer Library System sponsored training you attended, whether in-person or online (live or archived) will meet the annual requirement. We're already taking steps at the system to prepare for this regulation and I will keep everyone updated as more information is released
Reminder: Updates to Minimum Standards
Just as a reminder, last year the Board of Regents adopted amendments that update the Minimum Standards to Libraries. All libraries will need to be in compliance with these standards by
January 2021 (this gives us one year)
. These updates should be manageable for most libraries across the state. The biggest changes are that standards one through five must be documents that live on your website, almost all of the standards need to tie into your long-range plan, and front line staff will need to receive technology training.
Here is the complete list of updated standards:
Written bylaws of the board of trustees; reviewed and re-approved at least every five years.
A community-based, board-approved, written long range plan of service developed by the board and staff.
A board-approved written annual report to the community on the library's progress in meeting its mission, goals and objectives.
Written policies for the operation of the library, reviewed at least every five years.
An annual, board-approved budget designed to address community needs as defined in the long range plan.
Periodically evaluate the effectiveness of the library's programs, services and collections.
Maintain hours of service according to a schedule based on population served: http://www.nysl.nysed.gov/libdev/helpful.htm#HO.
Maintain a facility which meets community needs, as outlined in the library's long range plan; including adequate space, lighting, shelving, power and data infrastructure, and a public restroom.
Provide programming to address community needs.
Provide a circulation system that facilitates access to the local library collection and other library catalogs as well as providing equipment, technology, and internet connectivity to address community needs and facilitate access to information.
Provide access to current library information in print and online to facilitate the community's understanding of library services, operations and governance. Information provided online shall include items 1-5.
Employ a paid director with qualifications based on population served.
Provide library staff with annual technology training appropriate to their position, in order to address community needs.
Establish and maintain partnerships with educational, cultural or community organizations which will enable the library to address the community's needs; as outlined in the library's long-range plan of service.
You can also view these standards on page 11 of the
Trustee Handbook
. The state put together a page on their website titled
Helpful Information for Meeting Minimum Public Library Standards
that was published earlier this year that you may find interesting.
We will be doing our best to work with libraries who may have issues meeting these standards, but it is up to the library to start working on them now so they are in compliance by next year. Please let me know if you need help with any of these items.
State Aid for Library Construction Grants
It is never too soon to start thinking about this year's Construction Grant season. You will be able to find the most up to date information and timeline with the following Docs link -
https://docs.owwl.org/Members/ConstructionGrants
. Keep in mind, if your library is planning on applying for a Construction Grant this year, you will need a realistic project quote by the May 22, 2020 Intent to Apply deadline. That means design and planning will need to start soon depending on project size. Also, certain expenditures on your building that occur after January 1, 2020, could be eligible to use as match funds for a grant application. Only activities that begin after July 1, 2020, can receive grant funds. There are a lot of stipulations and the grant application can be challenging for some, so be as prepared as possible before it's too late. You can take a look at the
FAQ section on the state's website
, or let me know if you have questions.
Oath of Office Requirement for Public Library Trustees
The Division of Library Development sent out the following reminder regarding the Oath of Office Requirement for Public Library Trustees.
STATE LAW REQUIRES EVERY PUBLIC LIBRARY TRUSTEE TO TAKE AN OATH OF OFFICE
January 1 is just around the corner! Many library trustee terms begin on January 1. This is an important reminder that New York State Public Officer's Law §10 (https://www.nysenate.gov/legislation/laws/PBO/10 ) requires all public library trustees (but not association library trustees) to take and file an oath of office within 30 days of beginning their term of office. Public library trustees are public officers and the oath of office is required to officially undertake and perform the duties of a public library trustee.
Not sure whether your library is legally a public library or an association library? Library type information is listed for every public and association library in New York State on the library's Annual Report and also on the "Find Your Public Library" web page at: http://www.nysl.nysed.gov/libdev/libs/publibs/index.html
Questions about the legal requirement for oaths of office or about library types should be directed to the director of the public library system of which the library is a member. Contact information is available here: http://www.nysl.nysed.gov/libdev/libs/publibs/1pls.htm