OWWLUG Meeting, Friday, February 28, 2020
10:00-12:00 at PLSHQ, Large Meeting Room
Automatic Renewals
Please see the new
staff-facing page on OWWL Docs
. A new patron-facing page / FAQ on owwl.org should be coming soon. This document could also be printed out to be given to patrons at the desk. Meeting notes:
Some concern expressed that automatic renewals delay the process for discovering an item has been lost. For example, if a patron has lost an item at week 2, but automatic renewal means that the item will be out for a total of 9 weeks, it might mean that lost item is less likely to be found
Notification Emails
Please see the new
staff-facing page on OWWL Docs
for more information on notification emails, too Meeting notes:
For the email -- could a space / extra line be added between items listed in the auto-renewal?
Will auto-renew text messages be coming?

Possibly -- they are being discussed. Issue is that current structure / model may result in too many SMS messages
Bad Stat Cat Report & Precataloged Items
More about the Bad Stat Cat Report on OWWL Docs
Reminder that this is a cumulative report
Please review every month
PLS-L Best Practices
Meeting notes:
Discussion of having a listserv that only includes libraries' circ accounts. This listserv could be used for sending notices of lost items / missing in transit / etc.
Additionally, we had some discussion about the use of "reply all" vs. just replying to the sender / requestor. The general consensus among OWWLUG attendees was that reply all was not necessary.
We discussed different approaches to local options for how the circ account is managed. Some libraries may only have one person responsible for checking that account. The accounts could be set up so that they forward to a number of staff members.
Finally, OWWLUG has requested that messages relating to items should include information about the item (and not just a barcode) to save the time of staff members at other libraries who are being asked to look for items.
Scams, Spam, and Phishing Emails
Examples: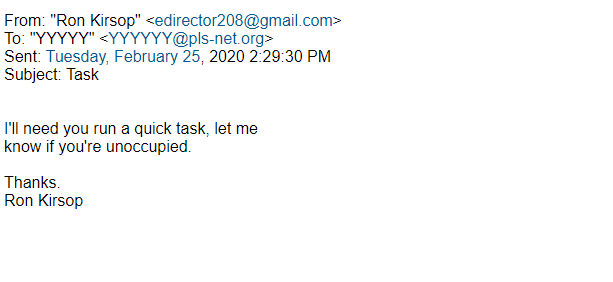 Meeting notes:
Be mindful of emails that look official. Always hover over the "from" field for your email.
Even if a message looks like it's coming from a colleague, it may not be.
Always hover over links, and don't click on links that go to a website that looks suspicious.
When in doubt, ask or call and confirm that a message actually came from the person the email says it's coming from
https://owwl.org/digitallibrary
Meeting notes:
Out-of-System ILLs
Meeting notes:
Please remember that this is a service!
Also, RRLC Access Cards are available for serious researchers who might need regular access to the collections of participating institutions
Finally, FLCC can be accessed by any resident of Ontario County or surrounding counties
PII in Identification Fields
Meeting notes:
General reminder please not to include PII in any patron registration.
Preliminary discussion on hold shelf slips -- to be continued!