OWWLUG Meeting, Friday, June 23, 2017
Group formats and editions
We have made a change in cataloging policy that going forward we will be adding separate records for different editions of titles that previously shared records. In particular, small-format (mass market) paperbacks will have their own records. Kathryn has been communicating with holdings staff about these changes. In regards to front line library services - reference, holds, etc. - this means that more titles will appear in catalog search results. In order to focus the search results, we suggest using the "Group Format and Editions" function. This will combine related records for a specific title. Example - title search for A Man Called Ove: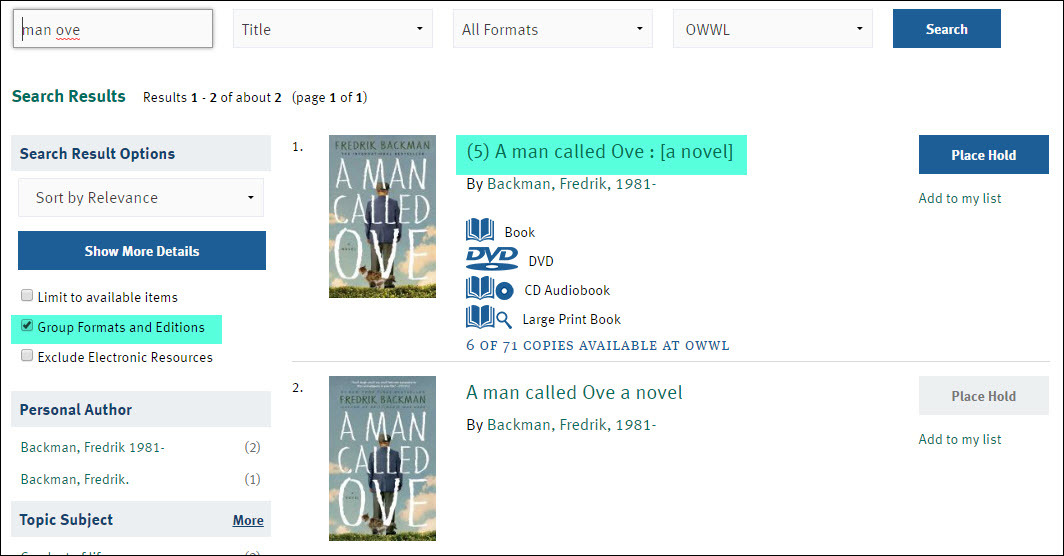 When grouped, two records display. One that combines 5 different editions, and one for an ebook. Click on the title of the grouped record to see the specific options.
Some cautions:
Some grouped results will include semi-random "matching" records

we, and Evergreen development community, are working on improvements to the grouping function to improve the accuracy of results. This relates to several factors. Record quality is important, so older records will have less accurate results, but newer records will be more accurate. And the algorithms used to tag records will be changed in an up coming version of Evergreen.
Placing a hold on grouped records - either all available editions or selected editions - creates a meta-record hold. This means that the system will look at all potential copies, from all the selected records, and select the first available copy to fill the hold.
Clear holds shelf
Overdrive's new app
Andrea introduced Overdrive's new app for accessing e-books and e-audiobooks, Libby. Responses from OWWLUG: "So easy!", "I just installed it and downloaded two books!", "I like Libby!" It's very different from the current app, but so far the differences seem to be improvements - like faster response time, fewer clicks to install and get started, easy of downloading book. Links to the i-Tunes app store, Google Play, and Microsoft app store are prominently available at
https://owwl.overdrive.com/
. Andrea encourages libraries to point new Overdrive users to the Libby app. She will be getting promotional materials for libraries, and will come to libraries to do training on the new app, and Overdrive in general. Andrea will also see what options we have to make sure the Libby app download options are easily available for our patrons. Other questions, please let her know.
Other stuff!
Text message notifications
When a patron incorrectly adds a text notification number - typically for available holds - the library's circ desk email account will get an error bounceback message. The original messages, which are included in the bouncebacks, include the patron's database ID which can be used to retrieve their record. Full information for finding the ID number and retrieveing the record are availabe here:
Text Message Notifications > Handle Bounce Messages
Note: patrons can enter a text number at the point of placing the hold, so the bad number may not be associated with the record. Flag the patron's account for follow up. Staff can enter a correctly formated (area code + number with no spaces) text number in the patron account Edit > User Settings area. Question: can PLS change the text entry field so that patrons are forced to use the correct format? Lindsay will look into and report back.
New York Historic Newspapers and New York Heritage sites