OWWLUG Meeting, Friday August 26, 2016
10:00-12:00 @ PLSHQ
Fall Support Staff workshop - Friday September 9
9:00am-3:00pm, at PLSHQ. Lunch provided and awesome workshops!
REGISTER!
http://pls-net.org/event/SupportStaffWorkshop2016
Computer & Cable Troubleshooting (9:30-10:30)
Active Shooter Training (10:30-Noon)
Engaging Patrons at your Library (1-1:30)
Creating Fun & Easy Crafts for Adults (1:30-2:30)
Reminder: avoid patron info on slips
When you print slips from Evergreen, particularly transit, hold, and date due slips, please make sure your receipts do not include personally identifying information such email address and phone number. Notes: Directions for editing and customizing receipt slips can be found here:
ReceiptTemplateEditor
. Attached to this page are examples of code to truncate patron last name and barcode. For more help editing receipts, contact Lindsay.
RRLC Access Cards
These cards are available free to library "superusers" - those patrons whose research needs exceed the OWWL system's collections, such as independent rersearchers or high level homeschoolers who need more academic or specialized materials. The RRLC Access program allows direct access to various area institutions. Full information can be found here:
RRLC Access Cards Program
. Access cards are good for one year, running from July 1 through June 30. Access cards are issued to a patron by their home library; libraries request cards from PLS. For more information, or to request cards, contact Lindsay.
Zinio magazines
Overdrive no longer offers digital magazines. PLS directors have decided to continue offering digital magazines through a different service, Zinio. We are currently in a trial period, full access to patrons will begin September 1, 2016. The magazines available are pretty much the same as we had through Overdrive. Zinio magazines can be read online from a desktop, or use the "Zinio for Libraries" app (available from the various app stores.) The app, and magazines, can be used on "all modern devices". Zinioo users will have to create a Zinio account, which is created using their library card and email address. The Zinio account is linked to the app. NOTE! Once the set up is done - creating an account, installing the app - getting magazines is pretty easy. Visit the PSL Zinio page here:
https://www.rbdigital.com/plsnetny/service/zinio?refresh=1
to get started. Try it out! For more information, or with questions, contact Pat.
Multi-part overdue mailers, the winding down of an era
For a variety of reasons - declining numbers of notices beng generated, technical issues, quality issues, the silliness of re-billing libraries for amounts like $0.20 - PLS will be discontinuing the multi-part mailers as of January 1. In 2017, libraries will print their own letters for overdue notifications and bills. Several libraries with historically higher circulation numbers/notice volume - Geneva, Williamson - have already switched to printed letters and report no problems in workflow. The advantages of self-printed letters are several: being able to see what items are included in the notices, being able to check shelves before printing/mailing, including all items in a mailing (the mailers were limited to 5 items per mailer). We also now have an option to insert a line or two of custom text into the self-printed letters. If you wish to convert to self-printed notifications early, contact Lindsay. The following libraries indicated that they would like to switch now: SOD, ROS, WOL, WADS. Lindsay will follow up with more details.
Ellison die records in the catalog
New records for library holdings of Ellison dies are being added to the catalog. These library-specific records will replace the PLUM listing AND older catalog records for specific dies. Kathryn has been contacting libraries about these changes.
If your library is in the PLUM list - EllisonMachine - Kathryn contacted your library's director and holdings staff. If you have Ellison dies and were NOT contacted, please contact Kathryn.
The dies are not visible in the public catalog, and are for library staff use only. The question was raised about making the records for dies holdable by library staff, as copy holds, similar to magazines. Currently the dies are not holdable, but Lindsay will follow up on this idea directly with the holding libraries. It seems like a good idea. The record for the Avon Free Library Ellison dies is an example of the new look: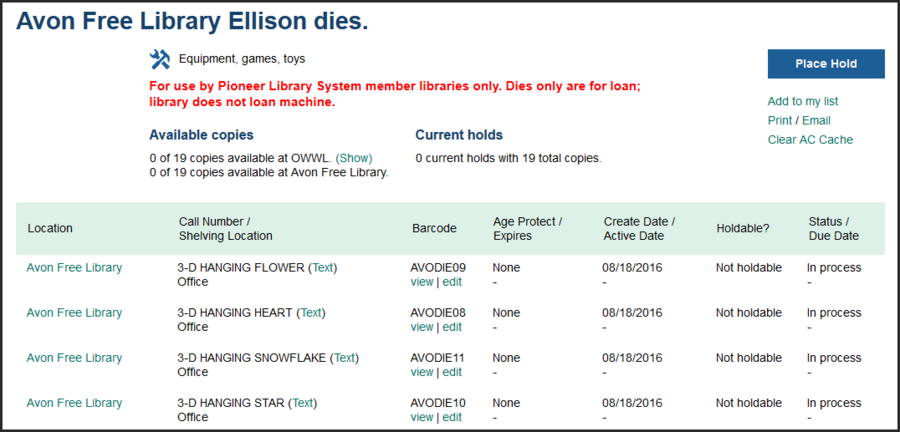 Individual dies can be searched using keywords. For example: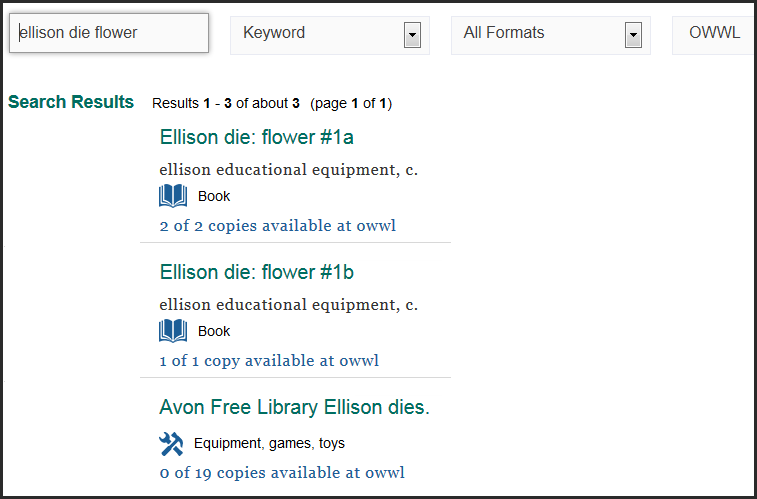 Lost Materials bills when the item is returned - "Account Adjustments"
This is a new "feature" of Evergreen 2.10. The functionality of lost bills replacing overdue bills, and overdue bills replacing lost bills when an item is returned is the same as it always has been. The labeling and display of these transactions is different,
but only when an unpaid lost item has been returned
. Now, when an unpaid lost item is returned, the "Total Billed" amount will reflect the original Lost Materials bill amount plus the reinstated overdue fines. The "Total Paid" amount reflects the Lost Materials bill. This is now handled by the system in a process called "account adjustment", and is counted as a "payment" - but this is NOT actual money paid by a patron or a payment applied by library staff, and will not appear in the cash report. The "Balance Owed" reflects the reinstated overdue bills, and is the amount the patron should pay.
Adjusted Lost Materials bill in Bills List

Adjusted Lost Materials bill in Full Details

Books Plus Kits - brochures, requesting, etc.
Recently a paton appeared at PLS with a brochure for the Books Plus kits, having been referred by a member library. Please be aware that ANY brochures lingering in your libraries are out of date and will only make the process of requesting kits more difficult. Find and recycle any old brochures! To view available kits, request kits, ask questions about kits, go to
http://owwl.org
> Borrow a Kit (or the direct link:
http://owwl.org/kits
). All the information is there and up to date. Kits can be searched directly in the catalog using basic keywords, like "theme kit books plus", and most kits can be placed on hold directly by patrons. For questions about kits, contact Heidi.
Scheduled and Ad Hoc Reports Review
We covered the generic Circ Stats report, Monthly New Users,
High Demand, List Itemd by Copy Status, Old Holds, and a whole lot of tangents before we ran out of time. Ad Hoc reports will be covered in the next meeting, October 28.
Report tangents, in no particular order:
Requesting custom reports for special projects, ex: SOD items that haven't circulated in 10 years

Lindsay is always open to custom report requests, and general questions about how to get information about your collection, patrons, circulation, particularly if you have particular project you want to work on. Sometimes it is easier to write a new report than figure out how to make an existing report give you the information you need. Also, custom reports can be reused for other libraries with similar questions, and often make it into the Ad Hoc report list.
A specific example, is the Sodus list of items that have not circulated in a Very Long Time. This particular report highlights items that have not circulated in Evergreen, and may have never migrated from Workflows. This report can be easily set up for another library looking for a different time frame.

Upload from File

When you are using a report to make changes to copy records, use the ItemsUploadFromFile function to load batches of barcodes into Item Status to make batch updates, or just look at the records and get different information

Finding Notepad in Windows 10

A key component of upload from file, is the file. Specifically, a plain text file, created in Notepad. We, change-averse Windows 10 novices, discovered that using the Windows search box to search for "notepad" will open it right up. (Also, "Wordpad" is a rich text format and does not play nice with Evergreen.)

Record ID as a general indication of a records age (high demand, old holds)

Kathryn provided this #protip: use the record ID as a general indication of a record's age - the lower the number, the older the record (except when records have been merged, so newer records/editions have been merged into older records, but still). Record ID is a common field in bibliographic reports, particularly the High Demand report, where the specific title record is an important data point.

Reports with multiple tabs

MANY of our scheduled reports have multiple spreadsheets included in one report. Each sheet is indicated by a row of tabs along the bottom of the window. Look at those tabs for more data.

Occasionally misleading report names

We are looking at you, Monthly New Users! This report details new user records created, but also includes data about ALL users, and user records that have missing or incorrectly formatted data.

In-House Use (monthly/yearly circ)
Scheduled reports
These are standard reports scheduled to run on set days. The data included in the report output is limited to a set time period - month, week, etc. Alerts for new reports are sent via email, with a link to the
report browser
. There are two sets of scheduled reports
All - Generic Reports: this is a single report that includes data from all libraries
Individual libraries: various reports that focus on the selected libraries' collections, patrons, circulation, holds, and overdue materials

Monthly Circ by Patron Stat Cat - FDA (Free Direct Access)
Overdue Shelflist (various)
Ad Hoc Reports
These reports were created to meet a variety of library needs, and return specific data based on criteria that libraries select. The data included in the reports is accurate up to the run time of the report.
3 Year Inactive Patrons
Self Check Activity
Other Misc Topics…
Ancestry Library Edition info
The URL for Ancestry Library Edition access (available within libraries/on library networks only) is:
http://www.ancestrylibrary.com/
Fliers / PR materials to print:
ALE 8.5x11 Poster - there is an editable area where you can insert your library name and/or the URL before printing and posting
Genealogy Resources Poster.pdf - a basic workflow/tips poster (8.5x11) for the genealogy research process using ALE tools
If you would like any on-site staff training for using Ancestry Library Edition, please contact Lindsay. It's really addictive…