OWWLUG Meeting, Friday, October 30, 2015
10:00-12:00 at PLSHQ
Lost and Paid status
"Lost and Paid" - what is it? why can't I check in an item? but the bill hasn't been paid! Lost and Paid is a new (with version 2.7) copy status that is applied to a copy record when an item that had been marked lost is paid for in full. The item will be cleared from the patron record (both Items Out > Special/Other Circulations and the bill list). Lost and Paid items CANNOT be checked in. This is set to prevent refunds/negative balances from being added to the patron account. If a Lost and Paid status item is returned, the owning library can manually change the copy status to available. If it belong to another library, the receiving library should sent the item to the owning library for processing. Prior to October 2015, there was a bug in this feature which caused the Lost and Paid status to be applied when any part of a bill associated with the lost item (such as an overdue bill while the item was still circulating) had been paid, even if the Lost Materials bill itself had not been paid. If a Lost and Paid item is
returned
to the library BUT there is still an unpaid bill, submit a help request to
evergreen@pls-net.org
to have the check in block overriden. This bug HAS been fixed, so only items made lost between June 2015 and September 2015 will be effected. Lost and Paid records will appear in the
Reports List Items By Copy Status
. The
Reports List Of Lost Items
will include ONLY records with the status lost, eventually only lost records where bills are UNPAID. Updated documentation:
When it is OK to manually change the status to "Available"
Bill accrual and "grace periods"
Question: It appears that some patrons are not having for overdue material. Answer: Items are always due on the due date at 11:59pm. Overdue bills are added at 11:59pm on the day
following
the due date, when they are, in fact, overdue. This works out to be a sort of "grace period" if the item is returned before 11:59pm on the billing day. Otherwise, fines are added daily until the item is returned. Example: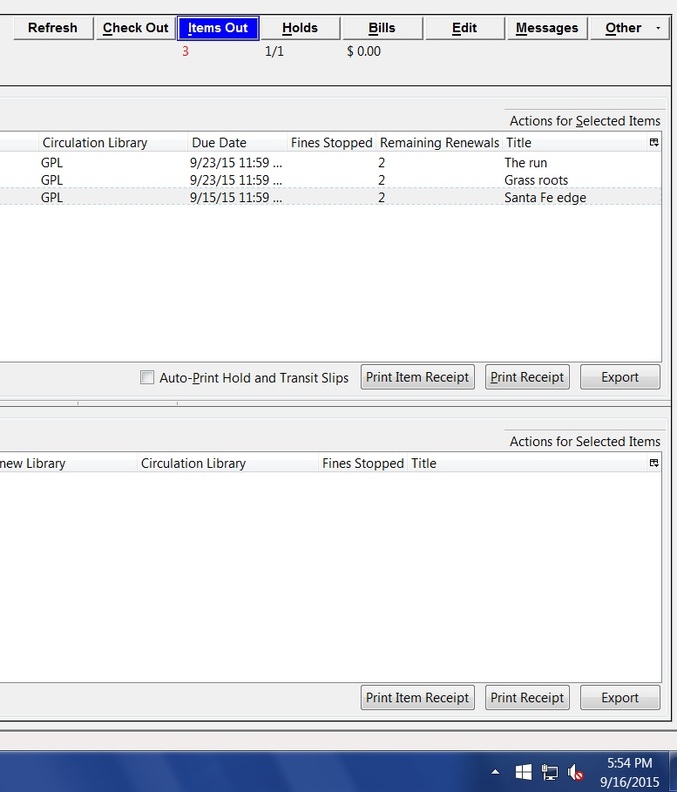 Question: We checked in a hold for a patron, and the hold slip showed a weird phone notify number. The patron's phone number is correct in their record. Is there a problem with the hold slip?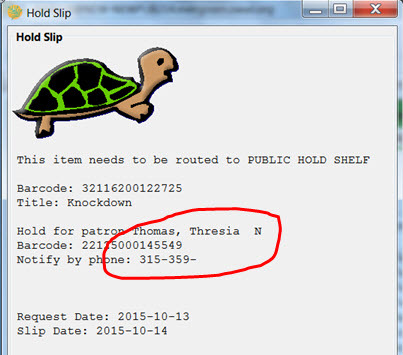 Answer: Nope. While daytime numbers are added as the default phone notify number for hold records, patrons can change the number used at the point of creating the hold. The first step is to verify how the contact number was added to the hold record. To do so, open the patron's account and look at their hold list. Using the Column Picker, select "Telephone Notify" option to display. In this case, the telephone number was entered incompletely (or the default value was changed) at the point of placing the hold. The slip printed exactly what was saved to the hold record. Display hold contact info in the patron hold list:
Novelist
What it is, how it's used, and the recent survey. A survey sent out to all PLS member library staff with a question asking "If NoveList was gone tomorrow, what one feature would you miss the most?" We looked at the various components of NoveList - the catalog enrichment content, the database, related databases, LibraryAware and NextReads.
Library Aware
This is a EBSCO product that is a part of our Novelist subscription. It is primarily a library marketing and promotional tool. We have not promoted its use, using mostly for the NextReads newsletters. However, it includes templates for creating library publications - bookmarks, flyers, brochures, email content, etc. - that can easily be customized and include book-related information drawn from the OWWL catalog. Libraries can be given individual logins to create and manage their own promotions. Contact Lindsay if interested.
Next Reads / Newsletters
This is a part of LibraryAware and provides emailed newsletters of recently released titles. The newsletters link back to the OWWL catalog. Links to sign up for the newsletters are found in owwl.org/resources - Recommended Reading, and also within the "Reviews, Series & Suggested Reads" section of a title record in the catalog. There are 25 standard lists that patrons can choose from. Individual libraries can create their own custom links with a LibraryAware account. Contact Lindsay if interested.
Let's talk about front line customer service…
At the Annual Dinner, the keynote speaker talked about how a library's brand "should drive the customer experience." This started me thinking about how library staff think of their brand, and of their patrons' experiences in their libraries. In talking with other library and PLS staff, it seems like a topic that can generate a LOT of discussion. Let's try something new at OWWLUG, a guided discussion of issues that directly impact front line staff. Here are a few ideas that came up:
How do libraries balance local customer service issues and patron expectations with collective/system-wide expectations?
How can library staff draw (and maintain) boundaries?
How do we (particularly front line staff, who may or may not have much training, experience, or comfort with some of the issues) have difficult discussions with difficult patrons?
How can we prepare front line staff, when they may work few or odd hours, or be the only staff on duty?
"Secret shopper" library patrons - wouldn't it be interesting for front line staff to go to another library and attempt to use the library like a patron, and see what the experience is like! Or, how different are library staff opions about their libraries from patron opinions?
Other topic suggestions?