OWWLAC Meeting, Tuesday, January 26, 2016
2:00pm at PLSHQ
2016 membership
January-December 2016 representation
| Representative | Library | County | Represents Libraries |
| --- | --- | --- | --- |
| Rebecca Budinger | Avon | Livingston | AVO, CAL, DAN, LIM, LIV, MM |
| Elly Dawson | Victor | Ontario | CAN, CS, GPL, HPL, MAC, VIC |
| Lisa Gricius | Warsaw | Wyoming | ARC, ATT, NAP, NUN, PER, WAR |
| Beth List | Walworth | Wayne | NEW, ONT, PAL, SOD, WAL, WIL |
| Erin Robinson | Castile | Wyoming | BLI, CAS, PIK, SS, WADS, WYO |
| Diana Thorn | Bristol & Bloomfield | Ontario | AHILL, BLO, BRI, GOR, PHE, RJ |
| Tracy Whitney | Marion | Wayne | CLY, LYO, MAR, RC, ROS, WOL |
Pop-up Library
Lauren will present a new philosophy re: popup library service.
Library Aware update
Lindsay is waiting for Library Aware/EBSCO support to create sub-units for all libraries, which will include their addresses and other information, before proceding with additional training. This process has been taking a while. We did a brief run through the features of Library Aware promotions and also Next Reads newsletters. Lisa Gricius pointed out that using Library Aware for print promotions can get very expensive with color printing. This is an important point to consider; possibly the emphasis should be on using it for electronic materials. UPDATE: Libraries through Marion have been added. Lindsay will start working on training, and contacting libraries. (2/5/2016)
Mango languages
Stats:
December 1 - 31 (access started December 17) - 49 total sessions

top uses by course - Spanish (Latin America) - 12; French - 8; Pirate - 7; German - 6; Spanish for Libraries - 5

January 1 - 26 - 149 total sessions

top uses be course - Spanish (Latin America) - 42; French - 26; Italian - 19; Pirate - 11; Japanese - 9
Overall: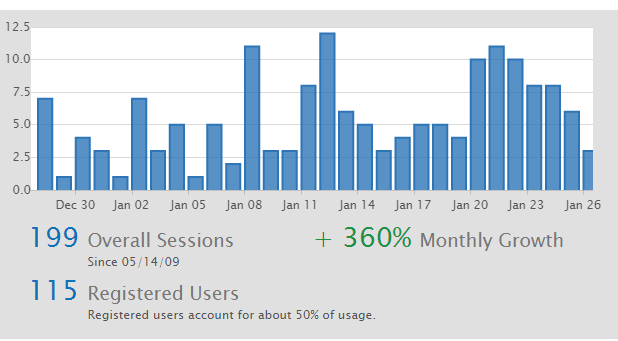 General discussion of Mango software (with a brief side track into MCLS subscriptions - appearently only Brighton Memorial Library subscribes, there is no system-wide subscription, yay, PLS!). We would like to know if it is possible to know how many specific users are accessing given courses; for example, Spanish had 42 course uses this month, how many actual people are taking Spanish courses? This information is not currently available. Lindsay will ask. Otherwise, feedback so far has been really positive.
Services and issues on the horizon?
Topics raised in previous meetings
Credit card payments

Currently, it is not a PLS priority to implement system-wide online, credit card payments. Several libraries have implemented local credit processing options.

Financial policies discussion group (9/22/2015)
Other?