OWWLAC Meeting Tuesday, October 28, 2014
PLSHQ, 3:00-5:00pm
Special Meeting Time
In response to the Finanical Accountability workshop also being held at PLSHQ and starting at 5:30pm, OWWLAC will be meeting from 3:00pm-5:00pm.
Information security recommendations
Lauren Moore will present (web conference)
Security Breach Notification - waiting information from our lawyer
Information from the NYS Comptrollers office regarding Information Technology Governance - http://www.osc.state.ny.us/localgov/pubs/lgmg/itgovernance.pdf
Query: where is patron data stored, how is it encrypted/protected, who is responsible for Evergreen data security
Discussion:
Technical aspects of data security (Bob Wicksall)
OWWLAC Bylaws Updates
Follow up from previous meeting
Purge Legacy Bills and deleting 6+ years inactive patrons - this may involve paying our vendor for data work, waiting for more information

ETA: 10/29/14 quote from vendor, the cost is prohibitive at this time, PLS staff will continue to consider our options

Video Set circ modifier and circ rules added
Circ Limit Sets are still being tested in the live server
Call number prefix and suffix update
Extend Wifi timeouts
Guest logins = 1 hour, library card logins = 3 hours. Is there a reason to keep logins so short? Some libraries have reported that patrons have had problems completing important online tasks like job applications, particularly using the Guest login. Extending this period would show declines in wifi sessions, if tracked.
OWWLAC membership 2015
Two positions - one low and one high circ library - need to be filled for January 2015.
Transit Slip template updates & delivery label guidelines
Changes to the template for the printed version of the Transit Slip will allow libraries to print transit slips so that they follow the delivery label guidelines. Delivery label guidelines:
Bold, block print the library code at the top of a paper slip
The paper slip should be long enough to be secure in the item
No patron information on the slip
No confidential information on the paper if using recycled paper
Examples: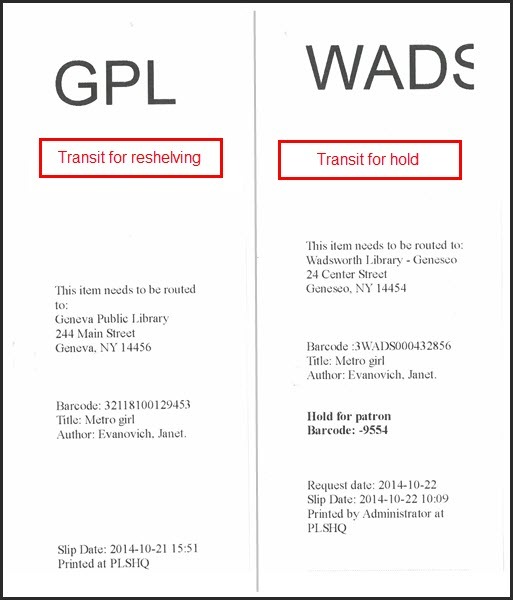 Evergreen Settings
Other…
Damaged materials owned by another library
Outcomes & Recommendations
Libraries will stop entering Driver's License numbers into the patron account
Libraries may continue to use and keep paper registration forms, with Driver's License numbers knowing that security of this information is the libraries' responsibility
OWWLAC reaffirms the recommended 1 year maximum retention period for paper registration files
Creating standardized lists of call number prefixes and suffixes determined to be too much effort for too little benefit; this idea has been shelved
Wifi session limits for both Guest and Patron logins should be set to 3 hours
Updates to the OWWLAC Bylaws acepted, with the addition of clarifying how libraries are assigned to representatives
Any libraries who prefer to print Transit Slips for delivery materials should use the updated transit_slip and hold_trasit_slip code which conforms to delivery label guidelines
Actions
Reps will discuss with member libraries the PLS Information Security Recommendations, particularly issues in collecting personally identifying information
PLS will determine a process to remove current Driver's License numbers from patron records and remove the Driver's License number field from patron registration/edit
PLS will update the Wifi Guest login timeout
LS will update Bylaws
LS will distribute transit_slip and hold_transit_slip code, including a post in PLS Notes
LS will ask Adam to work up recommendations (model, price quote, source) for slip printers
LS will provide talking point information for the Evergreen 2.7 setting "Void lost max interval"
Reps will use the talking point to discuss with member libraries
LS will create a reminder for best practices when handling damaged material not owned by your library for PLS Notes and discuss at the upcoming Holdings Maintenance workshop (11/12/2014)